(This week's spiritual discipline is service. Alicia Phillips wrote today's blog.)
Have you ever found yourself at the end of a rough day, when one simple act of service put a new spin on your day? Sometimes it is as simple as someone holding open the door for you, greeting you with a good morning, or a Tootsie Roll to say "just keep rolling" that turns a normal day into a good day. These, though they are simple, are acts of love and service.
In John 13 we have a beautifully humble narrative of Jesus washing the feet of the disciples. The Lord, Master, Teacher, Messiah has taken the position of a servant to wash the feet of his followers and friends. Jesus, knowing that the time had come that He would be betrayed, denied, beaten, and crucified stops to serve His followers. Jesus, fully aware that the Father had given all power to Him, washes the feet of men. Yes, He did this as a declaration of His love for us but also as an illustration, an example, for His disciples and believers today to model our lives after. The Apostle Paul says to the Galatian church, "You, my brothers and sisters, were called to be free…serve one another humbly in love" (Galatians 5:13). We, by the cross, of Jesus are free, and as a response to God's great love for us, we are called to serve one another as Christ has served us and paid the price for our freedom.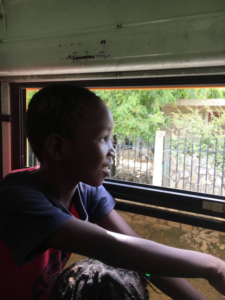 When we think of those who have given their lives to serving God and as a response to God serving others, at times we think of people that had a worldwide impact like Mother Teresa who spent her life serving "the least of these" and Billy Graham who evangelized to the millions. At other times we think of people like our local pastor who gives his or her life to the congregation, our military who fights for our country's freedom, and the first responders who at a moment's notice will drop everything for our own well-being.
The beautiful thing that I have learned about serving is that there is a place for each of us to serve, and as we serve, we receive "a good measure, pressed down, shaken together and running over" (Luke 6:38). I have found my heart through serving in the country of Haiti. To some, it sounds crazy to sleep with mosquitos and cockroaches in a country that is such a contrast to the United States. However, in the contrast, I have found that there is a great universal language of loving and serving one another. This universal language is expressed through the laughter of children as they play barefooted soccer, the smile of a mother at her child's first steps, the tears of empathy while comforting a family that has experienced loss, and the twinkle of eyes that are filled with joy. In each of these expressions of love, I have experienced a connection with the people. Despite not knowing all of the Haitian language and the contrast between their world and my own, I have been able to serve and fall in love with the people of Haiti. I did not have to do anything extravagant or make my name known worldwide to build these relationships with the people of Haiti. I just simply had to love and serve first through the universal languages of love that know no culture or language.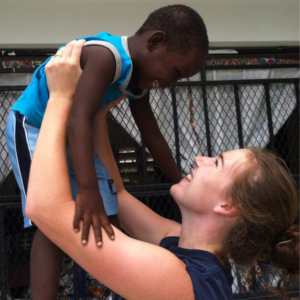 Serving others as a response to God's great love for us does not have to be difficult, and it does not have to leave you empty and worn. Serving can be done on any scale, in any place, to anybody through a smile, laughter, a hug, empathy, or a good morning greeting. Through this universal language of love and service, you too will have found yourself to be served.