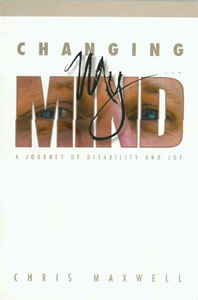 In
Changing My Mind
, Chris Maxwell's creative narrative welcomes others into his battle with encephalitis and the resulting epilepsy. His honest journal reveals a damaged brain and life changes, inviting readers to face their own inner wars, their painful struggles, their disabilities, and to believe a Listener can turn their mourning into dancing.
Changing My Mind gives victims, their family members and friends a better glance of true joy during journeys through the valleys, the shadows of death, the disappointments and the victories.
Please call 1-800-541-1376 to purchase this book or purchase at Amazon.
When an illness damaged Chris Maxwell's brain eight years ago, he plunged into a world of forgetting the simplest information. He couldn't remember what ice cream tasted like or how to use a fork. Names, people and events often eluded him. In Changing my Mind: A Journey of Disability and Joy, Maxwell challenges people to confront the pain that comes from change, coming to terms with life and becoming what you never expected to be. Using his own story of illness and recovery and the continual memory loss he deals with, Maxwell focuses on the problem believers have of wanting to know instead of just wanting to be—to control our situation instead of just living.
Maxwell demonstrates the need to live the message of the cross: in losing you gain. His is a heart-wrenching story that will help anyone who has faced unexpected tragedies gain the courage to go forward in the face of obstacles.
What I found awesome about this book was that it very clearly described Chris' struggles, fears and victories, while giving hope to those who have struggled, are struggling, and unfortunately will struggle with similar challenges. It meshes the human struggle from a mental and medical view with the spiritual challenge of using his faith to carry him through….
This is the unflinching story of a faith being severely tested and passing with flying colors. It will be deeply appreciated by people who are traveling life's hardest roads.
…In this case, Chris invites you to enter the twilight zone of mysterious grace. As he puts it, 'join the journey.' You will not regret it!
…Whatever your personal struggle is–physical disability, emotional dysfunction, sexual brokenness or unfortunate life circumstances–Chris' insights will inspire you to press beyond the pain to reach the victory.
Chris' creative, poetic nonfiction tells the testimony of his near-death experience. He takes the readers into the hospital and then home to a changed life. He confesses his struggles while offering true hope found only in God…This book will touch others and help them realize their reasons for living.