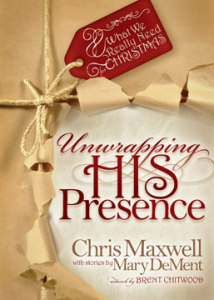 This year, why not go through the ups and downs of the holidays season with Jesus right by your side. Find faith in the buzz of overcrowded malls or as you visit a friend in the hospital. Hear Him in the rhythm of the holiday music dancing through the air-the music of people chattering, telephones ringing, children playing, sirens blaring, horns honking…the music of the life you live. Return home to the warmth and festivities, and allow the savory twists of poetry in this book to unwrap the presence of the One who gave His life for you so that you could spend eternity with Him. The One who is called-Emmanuel (God with us).
This book is just what you need for Christmas. Order copies for yourself, your family, your business, your church, your neighbors, and your friends.
Truly a book for all seasons, Unwrapping His Presence is full of wonderful surprises. Suggestion: Plan to read it with pen and paper within reach. If you're like me, you'll find yourself pausing to jot down phrases, sentences, and ideas to remember, savor, and share with others. The author is a gifted writer who gently elicits every emotion–from smile to tear–from his readers.
Unwrapping His Presence serves to do just that. The prose, the rhymes, the pain, the promise, the memories, the ecstasy, the profundity, the calamity, the simplicity, the complexity, the wonder, the disbelief, the exuberance, the disappointment, the promise, the Presence…it's all here. You can't read these lines without rehearsing your own stories and re-living your own life scenes. Each page beckons us to pause and ponder, wait and welcome, encounter and embrace…to receive again so we might give it away…again. As I read these pages I sensed both the Presence of my beloved Jesus and the presence of Chris, my dear friend. Both melted my heart, amazed my mind, and motivated my will to allow His Presence to course through me to those far from Him…Mary Christmas, indeed!
My friend Chris Maxwell is a literary troubadour. He's part poet, part musician and part theologian. Yet he crafts his words like a prophet—or maybe a surgeon—and penetrates hearts so he can change people inside. When writing about Christmas, he helps us see how we have trivialized the celebration, and he beckons us to embrace authenticity. He cuts away the superficial and takes us to the core of what Christ's birth is really all about.
Unwrapping His Presence is a much-needed, thoughtful reflection on a holy season that in our culture offers little opportunity for contemplation. Chris Maxwell's elegant writing provides that opportunity, by allowing readers to take a deep breath, spend a few moments in quiet reflection, and let God's presence infuse — and refresh — their lives.
Christmas is a time of wonder and celebration, but for many people, it is a time of sorrow and of grief. Chris Maxwell has captured both the celebration and the reflection that IS Christmas. This book is filled with inspirational stories that will encourage the heart, yet while reading the pages of Unwrapping His Presence, one will look inward for personal renewal. The central focus of the book is on the gift given at Christmas as well as the Giver.
It's easy to miss the high drama of the Christmas story. We think we know it from our repeated hearing. And we may conclude that we have its larger message down pat. But Chris knows well that the Bible account of God made Human resounds with surprising turns and unexpected insights. He eloquently here helps us see what was there all along but maybe we missed. He helps us experience the Gift anew, and may just help this year's holiday to be a more truly holy day.
If you are tired of the same old routine for Christmas, this is the book you have been waiting for. Unwrapping His Presence opens the door to set you free from the stress, guilt and boredom of Christmas.
You are holding in your hands one of the most authentic, powerful, insightful, wisdom-filled, and life changing books on embracing illness, pain, grief, difficulties, trials, sorrow, and heartache experienced during the Christmas season. If you have ever felt lonely, unfulfilled, or sad during the Christmas season, this is a must read.
Maxwell has a knack of helping you see things in a totally different perspective you would not have otherwise thought of. Unwrapping His Presence will help you understand sickness and illness, the purpose of grief, pain, sorrow, heartache and joy. The words help you find hope during the Christmas season and how it can be relevant to your current circumstances.
I cannot wait to get copies of this book to everyone in my circle of influence. This is the Christmas gift idea of the year. It will inspire and empower you to a deeper appreciation for living life to its fullest.
If you are serious about having a better understanding and appreciation of Christmas, then this book is a must read.
What a reflective, poetic, and intimate insight into the miracle of Christmas. Chris Maxwell, along with contributions from Mary DeMent, has done a masterful job of assisting us with embracing the wonder of this Holy time and bringing His Presence into our every day challenges. I will never approach Christmas the same after reading this gift of words.
Chris Maxwell's book allows his readers to connect to hurts and losses in their lives, while giving hope and practical advice to foster healing! The advice he and Mrs. DeMent give is sound and true for those who are looking for hope during the Christmas season! Chris allows Jesus to be at the heart of why He came to earth, to heal those who are hurting. Chris not only identifies with those who are broken, but he beckons them to embark on the journey to wholeness through Christ! This isn't just a book, but it is a bringer of peace, hope, and joy!
Christmas can mean different things to many people. Created by God for the purposes of worship and fellowship, the reader is transported back in time. Chris Maxwell takes us on a journey as only he can by reliving Jesus' story in light of the true meaning of Christmas. Chris combines poetry with extraordinary story telling. Through these pages, I could smell the food, see the lights, and hear the chorals from days gone by at Christmas. I was prodded to reach back and discover for myself once again what Christmas is all about. Christmas is about reflection and the birth of Christ. Chris makes sure we never forget what Christmas means- that being Christ at the center of every present and presence.
Chris Maxwell's poetic gift of "reproducing a world in a word" has never been more obvious than in his latest book, Unwrapping His Presence: What We Really Need for Christmas. Chris eloquently relates Christmas in three basic truths: God came; God came in an unexpected way; God came in an unexpected moment. Unwrapping His Presence reminds us that as it was then, so it is now! In the diverse, often unhappy circumstances of a frenzied and frustrating Christmas, the glorious gift of God's Presence can be unwrapped in unexpected ways at unexpected moments. You can help a friend "Unwrap His Presence" if you will wrap this book up as a present this Christmas!
Chris Maxwell is one part poet and two parts story-teller. So it's no surprise that his latest book, Unwrapping His Presence: What we Really Need for Christmas is a joy to read. Take a day off from the hustle and bustle, settle into an easy chair and read this book. I have no doubt you'll soon be enjoying the Holy presence of Jesus.
Real beauty is complex and multifaceted. This is why beauty has inspired all aspects of art from songs to poetry to the canvas. Chris Maxwell offers to help us explore the deepest beauty of all…the incarnation which is the glory of God shown in the face of Christ. Chris guides us into the depths of the beauty of Christmas using the entire toolbox of art. It is an invitation you can't afford to pass up.
In the past year, I was introduced to Chris Maxwell. What I appreciate about Chris I have also discovered between the pages of Unwrapping His Presence. This book, like its author, is warm, direct, and authentic. I encourage you to invest some time this Christmas season (and beyond) discovering these simple moments of reflection.
Chris Maxwell has done it again! The sharp yet seasoned words penetrate our minds and hearts with emotionally packed insights of the Christmas Season. His inclusion of Mary DeMent's writings add to the joy this book brings. Reading this book during the Advent Season is a great way to settle your heart and mind in the busyness of Christmas.
Ironically, the Christmas season can be a period of pain and mental anguish for many. Heartrending memories often resurface making it a challenge just to cope. Chris Maxwell in his newest book, Unwrapping His Presence, offers solace and solution to all who are grief laden and troubled. With his unique storytelling gift, Chris challenges the reader to seek God's unfailing presence and tackle problems with grace and resolve. I heartily recommend it as a must read, especially for those entering the Advent season with pain and disillusionment. You won't be disappointed!
Chris Maxwell's words sing on every page as he reminds us not just of the "reason for the season" but the reason why God still matters in a sin-darkened world–every day of the year.
Poetic reflections of Hope that communicate the thoughts and feelings of the heart we all might experience during the holidays. The stories and words translate into insightful truths that will add threads to the fabric of your faith.
Neurologist and Epileptologist, Director, Hawaii Pacific Neuroscience, Clinical Professor of Neurology, University of Hawaii John Burns School of Medicine
Unwrapping His Presence is a beautiful blend of prose and poetry! Let Chris Maxwell's insight refresh and strengthen you. Let his heart deeply motivate you to love God and others during this season of Grace. Let his words calm and inspire you as he unwraps the profound meaning of the Christ Child.
Unwrapping His Presence opened my eyes to another facet of the holiday season and of faith in Christ. It's easy to get lost in the busy-ness of Christmas. With the heart of a pastor, Chris Maxwell gently challenged me to look beyond the hustle and bustle of the season, to experience the very essence of Christ's presence, and through the eyes of a Savior see past the exterior of mankind and into its soul. This new book is one you'll want to share with friends and family. You'll stop and reflect many times at the deep wisdom presented so simply and beautifully by this compassionate and genuine lover of God and people.
Any time I read what Chris shares, I always feel encouraged to know that another pilgrim on our life's journey has been where I've been or has been where I'm going. I can always relate and learn. I appreciate what Chris shares and his honesty in describing how it felt, what it looked like, or what he learned. Chris Maxwell is real. Especially during the Christmas season, that is a refreshing comfort and an inspiring reminder of how we can travel through life together as Jesus travels with us.
Chris Maxwell's and Mary DeMent's Unwrapping His Presence is more than just another Christmas devotional. Blending poetry, stories, and sermons, it is a sustained meditation on grief and suffering within the context of the Christmas story. God's light shines through these stories – not like a glaring spotlight, but like a gentle, healing glow. If you have suffered and want the Son of God to be born anew in your life, read this book.