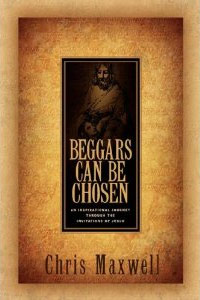 Beggars Can Be Chosen probes the encounters of Christ and those He invited to follow Him. It is a book for those who have accepted His invitation and for those who are searching for answers to some of life's most probing questions.
There is a dual objective in Beggars Can Be Chosen: How is Jesus inviting us to follow Him? How does Jesus invite others to Himself through us?
Traveling chronologically through the life of Christ, the text takes the reader on a stirring journey. The stories vary in pace and emphasis, but the focus stays true to the objective.
Most Christians know evangelism is a must. We often try and fail. We live plagued by the nagging guilt of ineffectiveness. Beggars Can Be Chosen reveals how the Great Commission flowed naturally through Christ's life. People are tired of programs. This book presents the Person of Jesus as the true method of evangelism.
Beggars Can Be Chosen draws from a wealth of classic and contemporary sources of insight and information. Anecdotes, textual explanations and stinging discourse provide moving meditations. Examples of ministries following Christ's example are displayed. Readers will know they have turned their attention to the Master Inviter.
To order, call call 1-866-909-2665 or purchase it on Amazon.