The bus was hot and crowded. Looking out the windows, we could see the trees and shrubs covered with a layer of dust. With no a/c, the air was stifling, but opening the windows let in the choking dust. Some 25 of us were headed to a location about 90 minutes outside the city of Pune (India), but we weren't too thrilled about going.
The passengers included volunteers from Georgia, North Carolina and Texas, who had given up their time and raised funds or spent savings to come to south India for 10 days of ministry, helping the local missionaries and pastors. Several folks from the Philippines joined us.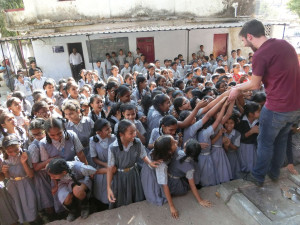 Our team consisted of two components: a group of medical professionals who would hold clinics at a church, a Christian school, and a low-income housing development; and a group of children's ministry specialists who would visit several schools and a slum outreach to play games, sing songs, do skits, tell stories and generally bring smiles to kids' faces.
But this outing was not on the schedule, and had been arranged at the last minute as a favor to a church member. Our destination was a palliative care center, whose patients were dying of cancer. This in itself was daunting to many of us. But it was the instructions we were given before boarding the bus that soured our mood: Since the center was non-religious and housed patients who might be Hindu, Muslim, Christian or other, we were told not to talk about Jesus, and to be as innocuous as possible in what we said. We were warned that any offense we gave could reflect negatively on the church member who had arranged our visit, so we must be careful.
Of course, we prayed that God would somehow enable us to share His love and truth in spite of the circumstance. But truth to tell, many of us chafed under the restrictions, and questioned the value of the whole enterprise.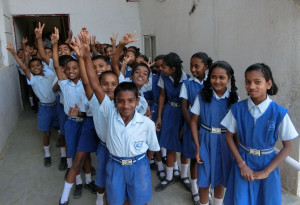 As we drove onto the center property, we were amazed at the beauty of the grounds, lush and green and well-tended. We toured the center and learned of the individual care each patient received from staff and volunteers. We learned that weekly concerts were held on the premises by volunteer musicians. We learned that family members were trained and equipped so that patients could go home to spend their last days with loved ones. We saw paintings and crafts displayed that the patients had made. It was clear that this was a place where each person was treated with compassion and respect.
We gathered in a meeting room with patients and family members, and several bed-ridden patients were rolled in. A few of the team members did a skit. One stepped up and sang "Amazing Grace," then followed that with another worship song – in English, of course.
After that, we were shocked to see the church member who had invited us go up front and join two of his colleagues in a worship song in the local language, and even begin praying in tongues!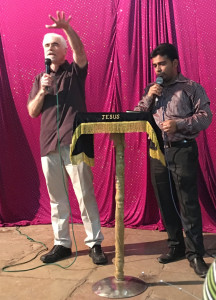 When the song finished, we were invited to greet the patients. As we moved from bed to bed, they reached out and took our hands, and many broke into tears. With each smile, touch or hug, the love of God flowed freely from heart to heart. The presence of the Holy Spirit was palpable and undeniable. As we said goodbye, some patients held tightly to our hands and wept. Parting was emotional for us all.
On the return trip, the atmosphere on the bus was totally different. There was a holy silence as we contemplated the way God had moved in the moment. We realized that He had been in that place long before our arrival, working in the lives of patients and staff. He then allowed us to join Him, to open ourselves up and act as channels for His love to flow.
Language and culture barriers are real, but they are not impenetrable. God is big enough to make Himself known in any circumstances, and no man-made restrictions can hinder the work of His Spirit. His love can be shared hand to hand and heart to heart. If we are willing,   He will make us vessels of that love.
About the author: Rev. Russell Board and his wife Sandra have spent more than thirty years as missionaries in Europe and Asia. Since 2002, Russell has served as Continental Director for the Asia/Pacific region, the largest, most populous, and most unreached area of the world. He and Sandra focus on channeling personnel and resources to strategic spots in Asia, training national leaders, strengthening indigenous churches, and mobilizing missionaries to take the gospel to the unreached. They have three daughters and fifteen grandchildren, and reside in Saitama, Japan.
Link: https://donations.iphc.org/missionaries/russell-board-support-account