As we continue emphasizing a different spiritual discipline each week, this one seems a little late. Shouldn't we have highlighted the act of "giving thanks" last week? 
The lateness is intentional. This is the week I personally need to remember the importance of giving thanks. 
Thanksgiving, the holiday, visited us on Thursday. The meals brought calories. The stories provided reminders. The parades and ball games and conversations gave opportunities for moments to be cherished. 
Thanksgiving, the choice, can visit us each day. 
No, we won't always feel thankful. External circumstances can cause us to feel everything but thankful — sadness and grief and frustration and betrayal and bad news and unanswered prayers and relational conflict and many more painful realities can hinder our thankfulness. 
Yet, we can choose to give thanks. We can believe God is with us in our pain. We can view life from a better perspective and refuse to be controlled by circumstances. 
I recently placed a picture of my mother on social media. A friend saw the image and said, "Chris, your mom was always so thankful. She had a positive attitude even as she was going through cancer. She died too soon but I'll always remember her smile."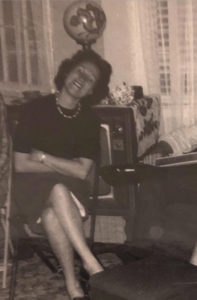 I'm not as positive or thankful as Mama, but that's one of many lessons in still trying to learn from her. To be thankful. 
But how? How can we choose to give thanks? 
Here are a few ways the discipline of thanksgiving can be a lifestyle, not an emotion and not just a holiday: 
– Write 10 things you're thankful for. 
– Read that list 10 times throughout the day, thinking of reasons you're thankful for each one. 
– Ask a friend to tell you a story about an experience they're thankful for. 
– Tell your friend a story about an experience you're thankful for. 
– Take time to write that story. And to read it. Refuse to forget the good news from the story. 
– Make a list of 5 similar stories you could have chosen to write about. Invest time to thank God for His work in each of those stories. 
– Look at a picture which reveals a time in your life when you were thankful. 
– Listen to a song which reminds you of thankfulness. 
– Spend time to slowly read and meditate on this thankful prayer from Psalm 95. 
Come, let us sing for joy to the Lord; let us shout aloud to the Rock of our salvation. Let us come before him with thanksgiving and extol him with music and song. For the Lord is the great God, the great King above all gods. In his hand are the depths of the earth, and the mountain peaks belong to him. The sea is his, for he made it, and his hands formed the dry land. Come, let us bow down in worship, let us kneel before the Lord our Maker; for he is our God and we are the people of his pasture, the flock under his care. (Psalm 95:1-7a, NIV)
Write a few of your own suggestions about ways to give thanks. When alone, when with friends or family, when praying: give thanks. Sometimes the choice to give thanks can change our attitudes — and our actions. 
Let's choose today to give thanks.