From Chris Maxwell's book Unwrapping His Presence: What We Really Need for Christmas
https://chrismaxwell.me/pause-christmas-gift-bundle
Matthew 1:18–23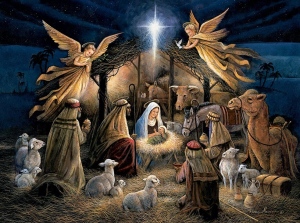 This is how the birth of Jesus Christ came about: His mother Mary was pledged to be married to Joseph, but before they came together, she was found to be with child through the Holy Spirit. Because Joseph her husband was a righteous man and did not want to expose her to public disgrace, he had in mind to divorce her quietly.
But after he had considered this, an angel of the Lord appeared to him in a dream and said, "Joseph son of David, do not be afraid to take Mary home as your wife, because what is conceived in her is from the Holy Spirit. She will give birth to a son, and you are to give him the name Jesus, because he will save his people from their sins."
All this took place to fulfill what the Lord had said through the prophet: "The virgin will be with child and will give birth to a son, and they will call him Immanuel"—which means, "God with us."
Then.
Away in a manger. That's where they were.
A young Mary. An unsure Joseph. A baby Jesus within, soon to be born.
The outcome? We sing it this season. We declare it with reason.
Now.
Away are the strangers. That's where they are.
A sick mother. A crippled father. A baby breathing his last, soon to depart.
The outcome? They hurt this season. They despise it for a reason.
What should we do? How can the ones with homes give gifts and time and love to the homeless? How can the well send healthy smiles and listening ears to the sick?
So many Marys and Josephs and soon-to-be-born babies need homes. So many walkers and talkers need hope. So many religious experts need truth. So many crying humans need tender loving care.
Start it at home, sending gifts of kindness to those so close? Steer it toward unlikely places, offering presents of true Christian joy to those bathed in hurt? Encourage the down? Feed the hungry?
Many rooms and roads help the lonely hide. May I—may we—run toward them this season. Let's visit a prison. Let's take time to give a smile to a rushing shopper. Let's surprise a missionary with money. Let's offer an hour of listening to an elderly talker. Let's drive the wheelchair of a friend who remembers her days as a walker.
Can we give gifts to a prisoner's child through Angel Tree? Can we sing songs at hospitals with a ministry like Nathaniel's Hope?
A smile. A prayer. A song. A gift. Yes, there are ways. Many ways.
On these days, remember the manger. And don't let a stranger get away.
"Are you willing to forget what you have done for other people, and to remember what other people have done for you … to remember the weakness and loneliness of people who are growing old … Are you willing to believe that love is the strongest thing in the world … stronger than hate, stronger than evil, stronger than death…. Then you can keep Christmas! But you can never keep it alone" (Henry van Dyke)
From Chris Maxwell's book Unwrapping His Presence: What We Really Need for Christmas
https://chrismaxwell.me/pause-christmas-gift-bundle