Consider the wonder of this thought: the One who loves us most has invited us to a dance. We can't afford the price to get in—He's already paid it. We aren't sure of the music, the alignment, the sequence, the movement, the space, the timing—He'll gladly guide us. We worry about performance, score, ranking—He's joyful just seeing our willingness to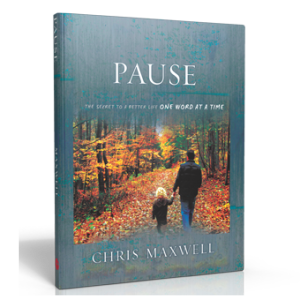 receive His invitation.
Let's receive the invitation to dance. Let's step up from our couches of complacency, our tables of fear, our chairs of doubt, our seats of unfamiliarity.
Hear the music. See the welcome. Respond to the invitation.
Stand up. Step forward. Walk toward the One who has invited you here. Begin to let music of grace guide your steps. Begin to let rhythm of redemption lead your motion. Begin to rejoice a while—not longer obsessed by the pain and hurts you've carried for so long.
Dancing isn't denial. It is choosing to be glad no matter what's staring back, choosing to celebrate in a world of wounds, choosing to let a moment not pass by without a segment of festival.
Let us dance.
– Today's blog is from the book Pause: The Secret to a Better Life, One Word at a Time. Pick up your copy on Amazon or HERE.