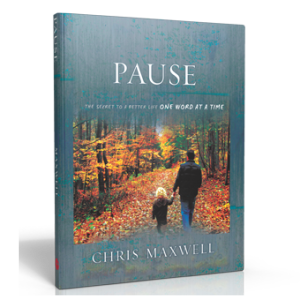 –          Today's blog is from the book Pause: The Secret to a Better Life, One Word at a Time. Pick up your copy on Amazon or at: BUY PAUSE
When our schedules are interrupted or delayed or completely stopped, we can choose to enjoy every moment.
As we face our personal issues of disability, sickness, or weakness, can't we choose to celebrate and enjoy the moments? Maybe we feel locked, unable, iced in. Even then, we can select attitudes of noticing the often ignored, enjoying the moments of each breath, reflecting on the drops of God's grace that have fallen on our land and chosen to remain. We can sense that we are covered by a true hope.
I looked out the window as I typed this original draft. Then, I prayed. I prayed that I would become better at noticing the scenes of glory, better at celebrating, better at choosing joy no matter the forecast of my future.