· Purchase Pause for Pastors during Pastor Appreciation Month for the ministers in your church: HERE or on Amazon. 
As pastors, we often know the right words to say. We can describe situations in ways that sound impressive.
We can tell stories and offer stats about our churches to convince people of our success. We can shove the taglines. We can sit at those pastors-impress-each-other luncheons and do our part.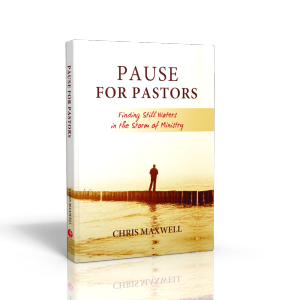 Or, we can go to the other extreme and let the conversation include this menu: complain about board members, complain about attendance, complain about other churches robbing our sheep, complain about other pastors and their doctrinal errors or their moral failures or their methodical silliness, complain about lack of money, complain about staff's poor efforts, complain about the complainers. Brag on the success or gripe about the reasons other people are keeping great success from happening for us.
Can we talk about something else?
Can we talk about ourselves?
Can we talk about how we are really doing?
Not how or what our churches appear to be doing, but us.
Me.
You.
Our own insecurity. Our own desire to prove our value—and our tendencies to use church growth stats and conversions and baptisms and financial reports and building projects to raise our status. Let's talk about our deep wounds. Our relational scars. Our unanswered prayers. Our faith merging with doubt.
I'm not suggesting that we tweet our troubles for the world to know or merge our misery into an unrelated sermon. I'm not suggesting we become reactionary, desensitized, or enabling.
I am suggesting that we just stop playing the game. Just stop.
Stop by choice. I am suggesting that we believe our personal worth and value aren't based on a nation's meaning of success or a movement's trends toward being part of that inner circle.
I am suggesting that we find a few people to talk to about our true selves.