Our summer days last long.
July begins. We find ourselves in the middle of the year.
The sun's shine keeps our days brighter. We wake in the light. Darkness comes late.
But our long days are brief. They begin and end suddenly. Meals and conversations and business and fun and duties. Jobs and friendships and social media. A rising sun. A setting sun. Dates change rapidly.
Though our summer days last long, they come and go in a hurry.
Days begin. Breakfast and prayers and news. Business meetings and dreams of future accomplishments. Conversations about life and goals and schedules and plans. Ball games and an evening enjoying ice cream (chocolate chip cookie dough). Days end.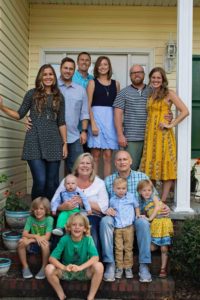 I struggle grasping that this year is halfway completed.
We planned a long time for a trip to Dakar Senegal. We went. We returned. The time ended.
We planned a long time for days with our sons and their families. We ate meals, played games, and enjoyed the moments. They all left in different directions.
What can we do? Nothing to slow time. Nothing to deny the hurry's reality.
But we can choose to notice each "now." We can intentionally breathe deeply, glance at the shining sun, hug a neck, hold a hand, and eat the ice cream very, very slowly.
2018 is halfway to her conclusion.
But we are here. Let's not miss the rapid rush of each family gathering, each day on the job, each conversation, each song, each meal, each moment. Every day matters. Every person matters. Every moment matters.
Let's work hard and rest well. Let's pray now and listen deeply. Let's cherish the brief, long days like today.
Now.