"Mt. Gap Campground was a perfect place to get away from the world and bond with God and other kids." — Chanlin McGuire, associate children's minister
"I have some of the most amazing memories there. Camp is part of the reason I am who I am today!" — Hilary Thomas, teacher who recently earned her master's degree in education from Georgia Southern University
"Can we do this every day?" – Jesse Hammond, eleven-year-old who attended Basketball Camp and Fun Camp this summer
Mt. Gap Campground is a beautiful 60+ acre retreat in The Rock, Ga. After being shut down for three years, it reopened the summer of 2015 with a new purpose and vision to inspire, enrich and empower people both young and old through recreation, arts, education and spiritual renewal. This summer, it provided a positive Christian environment for more than 30 young people in the Pike, Spalding and Lamar County areas, and next year we will reach out to many more across the state of Georgia. 

I fell in love with the campground a few years ago when my husband David and I ran summer youth camps for LifePoint Ministries/Georgia Conference, IPHC and have been inspired by the peace, beauty and ministry it provides. I have watched young people make decisions that have changed the course of their lives. Some have found life callings, some have found forgiveness, many have made life-long friends, but all have encountered God there.
And it's time for those things to extend to a new generation. We need to renovate cabins and a bath house, buy new mattresses, and upgrade a dining hall, but it's not just about fixing, buying or building "things." We talk about those things and fix them because they enable us to focus on what's really important: people.
We want to inspire creativity, excellence, and relationships with God and others. We want to enrich through mentoring, sharing and teaching. We want to empower people to be a positive influence, to pursue their dreams, and to reach out to others using the talents and resources God has given them.
We desire to minister to the whole person. We want people to grow spiritually, intellectually, physically and emotionally. That's why we focus on recreation, arts, education and spiritual renewal. We want them to be excellent and glorify God in all that they do whether they become a preacher, a teacher, a contractor, a lawyer, a stay-at-home parent, a coach or whatever their destiny.
I know all this can happen. I know we can see dreams realized. I know we can help people reach their potential. I know we can leave this world a better place than we found it and bring people hope.
One of my favorite quotes is attributed to Lowell Lundstrum and says "if your dreams don't scare you, then they aren't big enough." I and my board have a big vision for Mt. Gap Campground. We've already opened up for day camps this summer. Next summer, we want to have renovations completed so we can offer overnight camps, events and rentals, and after that, we want to build a gym/multipurpose building and lodging so that people from anywhere can enjoy Mt. Gap Campground all year round.
But we can't do this alone, nor do we want to. You can be part of making this happen by taking these actions steps:
 Go to: https://www.mtgapcampground.com/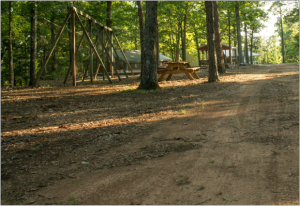 , and check it out, paying special attention to the "Take Action" tab. Be sure to sign up for our newsletter so you'll know what's going on. Then while you're checking your Facebook page, go to: www.facebook.com/Mt.GapCampground and like us! You'll find news, stories, and encouragement there.
 Make a donation. We're working on offering an online option, but we're not quite there yet, so you'll have to "old school" for just a while longer. Our goal is to raise $50,000 this year. Make checks payable to LifePoint Ministries for Mt. Gap Campground and mail to:
LifePoint Ministries, PO Box 210, Franklin Springs, GA 30639.
 Adopt one of our projects. Our priority projects for next year include the bath house, our cabins and our dining hall. We will be gathering estimates soon, but we will have both large and small projects for both large and small budgets. Visit the Adopt a Project page on our website for a more complete list.
 Volunteer for a work day or a camp. We need both skilled and unskilled workers for our work days. This past summer we had Basketball Camp, Running Camp and Fun Camps that included recreation and arts. Next year, we hope to add to that with an arts camps, leadership events and a greater variety of sports camps. We will also be hosting summer church camps.
My name is Hope Hammond, and I'm the director of Mt. Gap Campground. My husband and I pastor New Beginning Worship Center in Macon, Ga. We have four young adult children and two cats. I have a degree in journalism/PR from Georgia State University. Go Panthers! Contact me to learn more and to get involved. The best way to get me is by email at jklm_mom@yahoo.com because I am frequently found in front of my laptop and because I have a habit of misplacing my phone.