My name is Ellie Chapman and I am a student from Australia recently finishing up my Bachelor's degree at Emmanuel College, USA. The Lord paved the way for me to come to Emmanuel after the soccer coach from Emmanuel saw a video of on a soccer recruiting website.  When my dream of playing soccer in the U.S. started to become a reality, fear began to set in. In the months leading up to my arrival in the U.S., I honestly wasn't sure if I even wanted to come anymore, because I was so afraid about what might happen. What if I didn't like the school? What if I didn't make any friends? What if I sat on the bench and never played? What if I got really homesick?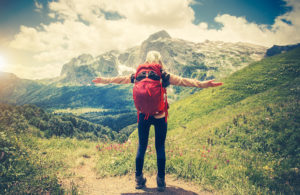 What if, what if, what if. I remember asking my Dad about how to make the decision; how could I really know if it was the right step? My Dad told me that I needed to lay out a fleece, as Gideon did in the book of Judges, and ask God to show me what to do. I remember thinking the fleece idea sounded a little too strange, and so I asked God to just show me any sign that he would be with me wherever I went. It wasn't until years later that I truly understood the irony of my worry. I was worried that I would be alone at a school called Emmanuel- a word that literally means "God with us."
Four years later and I can't believe I ever worried about my decision to come to Emmanuel.  My time in "The South" has been full of new experiences and personal growth. If I had a dollar for every time someone asked me if I rode a kangaroo to school, or if I had known Steve Irwin, or if I like shrimp on the barbie, I would be a very rich woman. While I will always be proud to be Australian, I now think of Georgia as a second home. Through my time here, I learned how to say the word "y'all," fell in love with cornbread, and have even come to understand the rules of American Football. I found that words such as sweater (jumper), trash (garbage) and parking lot (carpark) have also snuck their way into my vocabulary. Furthermore, this experience has taught me many important lessons. Soccer showed me how to handle the ups and downs of life, while my classes taught me how to work hard to achieve goals. Most importantly however, the spiritual culture at Emmanuel fostered my relationship with Christ. In 2015, Chris Maxwell baptized me in the Emmanuel College swimming pool in front of all my teammates, which was a momentous occasion for me. I became a college chaplain, and even took extra bible classes just because I wanted to! God answered my prayer for an American roommate that would also be a close friend. I prayed for her before I even knew her name, and 3 years later when my family came to the USA, we spent several days at her family's house, and enjoyed our time together immensely.
I want to say thank you to all the lovely Americans I met while on my journey, and also want to take this time to encourage anyone that might be reading this blog to step out in faith, knowing that God is with you. I've now told close to a hundred friends that they are welcome to have my couch if they ever make it to Aussie Land….here's hoping they don't all come on the same weekend!
Sincerely,
Ellie Chapman