Visit HERE to purchase your copy of Underwater.
I met Chris Maxwell on the campus of Emmanuel College almost eleven years ago. In our very first conversation, we both knew we had found a friend and even joked about how awesome it would be if we were ever given the opportunity to work together. 
Be careful what you ask for! 
We just completed our tenth year working together on the same campus. I never knew the "old" Chris Maxwell, but I read his books, studied his life, and have gotten to know the current Chris extremely well.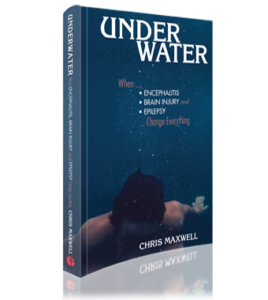 For many years, we have met weekly to talk, listen, laugh, cry, think out loud, dream, and learn together. We text each other at all hours of the day and night. He can complete my thoughts and finish my sentences. I know his routines, habits, daily rituals, what foods he likes, where he likes to eat, and, often, what he is thinking or feeling. We look out for each other and lean on each other for strength. He is a gift to my life, and I sincerely hope I am a blessing to him as well. 
My Chris Maxwell uses words and images to shed light and create life. He thinks, he prays, he writes, and he speaks. His words are well–chosen because they are precious to him. He invests them into our lives strategically in hopes of bringing hope, commonality, mutuality, and trust for a brighter day and better tomorrow. 
But don't just read the words. Feel the pulse of life, sense the joy in the journey, and embrace the hand of a friend who understands pain, disappointment, temporary setbacks, challenges, hard work, and the routine of daily repetition. 
Walk with him as he does the sacrificial work of reliving the nightmares of the past as a means of birthing new life and vision for a brighter future for your life. Savor every second and live every moment as if it were all you have. 
Dive in. Take the plunge. Go deep. Emerge as a better version of you. It can be done. You can learn to live again.
C. Tracy Reynolds
VP for Student Development // Dean, School of Christian Ministries // Emmanuel College