I once read that when a person goes through turmoil, they learn what they really believe about God. That has resounded in my mind for several weeks now.
What do I believe about God? In this muck of emotional grief, is He working things together? In the midst of the lowest point, when I have reached my sitting-on-the-kitchen-floor-eating-cake-for-breakfast-crying moment, is He there? More importantly, can He bring me into the light again?
I was afraid, so I hid. These words outline my story. They have branded me for far too long. If we saw my life as a movie, the plot line would reek of fleeing to false sanctuaries. It is time to allow God to show Himself. It is time to learn what it is to remain.
What do I believe about God? I believe that He is often quiet. He strides with peace. He traces our lives with kindness. His intentions are incessantly good.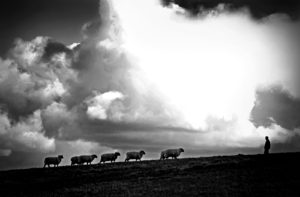 I have never felt so much pain in my heart.
I have never felt so much grace.
His embrace is often bittersweet, but always more sweet than bitter.
What is the way of the Shepherd, pal? The Shepherd leaves the 99 to find the 1. He carries the 1 on his back until they reach the fold again. When a sheep continuously strays from the pack, the Shepherd will throw his rod and temporarily harm the sheep. Do you not see how this is for the benefit of the sheep? It is necessary for the sheep's safety, as well as for the flock.
I know this to be true: He is always, infinitely good. If He harms, it is only to ultimately heal. He will bind up the wounds He has inflicted. Come and let us run to the Lord, He has torn us to pieces but he will heal us. (Hosea 6:1) I will rise and go to Jesus.