From Chris Maxwell's book Unwrapping His Presence: What We Really Need for Christmas
https://chrismaxwell.me/pause-christmas-gift-bundle
Galatians 4:4–7 (The Message)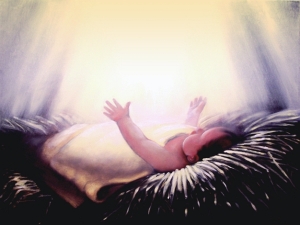 But when the time arrived that was set by God the Father, God sent his Son, born among us of a woman, born under the conditions of the law so that he might redeem those of us who have been kidnapped by the law. Thus we have been set free to experience our rightful heritage. You can tell for sure that you are now fully adopted as his own children because God sent the Spirit of his Son into our lives crying out, "Papa! Father!" Doesn't that privilege of intimate conversation with God make it plain that you are not a slave, but a child? And if you are a child, you're also an heir, with complete access to the inheritance.
i am an infant,
crawling around on the floor.
staring up
at the stairway,
i long to rise;
stand, walk, run, climb,
ascend to the top
and meet God.
but i am a baby,
incapable of such a feat.
God is there.
i am here.
the ten steps,[*]
stone stairs that offer access to God
are too formidable;
i am too weak, too immature.
God speaks from the majestic height:
He has heard my cries.
He sends a Rescuer
who descends the stairs,
a Giant shrinking in size
as He nears the bottom.
i am shocked, stunned.
when He arrives at the floor
He is an infant
crawling with me.
He has become like me.
but how will we climb the steps
and arrive at the place of our longing?
somehow this Babe lifts me up.
one step. then two. then another.
pushing and straining;
i see what is happening:
He is slowly dying,
exhausting His energy
by powering me to the top.
i arrive at God's presence
full of sadness and joy;
i sing for me and hurt for the Rescuer.
i see God.
i see God.
i think i know Him.
i think He knows me.
He smiles.
i cry.
His smile looks similar to a Baby's.
my cry is now the cry of a man.
"At Christmas God decided to become more than a scratch and sniff book; He bursts into the world of my five senses." (Joe Coffey)
_______________________________________________________________________________________________
[*] The Ten Commandments
From Chris Maxwell's book Unwrapping His Presence: What We Really Need for Christmas
https://chrismaxwell.me/pause-christmas-gift-bundle