At almost every college or university you attend, you are bound to find those particular professors who change your life forever. They're usually the ones that challenge you to be a better person, make you question everything you've ever known before, find more pieces of yourself, and just feel better about life in general. Here, at Emmanuel College, Dr. Rackley is no exception to these truths. On the contrary, he has become one of the most adored and appreciated professors and colleagues.
Having attended Emmanuel himself, Dr. Rackley started working at the little-town college in 2008. He has since taught classes such as General Psychology, History and Systems, Spiritual Form II, Basic Counseling Skills, Abnormal Psychology, and Childhood Psychopathology. While students have gained knowledge for future careers during these class times, they've also gained wisdom and lessons for future livelihoods. Dr. Rackley, though a busy man who juggles multiple jobs outside of teaching – he is a clinical psychologist, a dual-teacher at Liberty online, a skilled photographer, and a former tennis coach – he never fails to make his students a priority.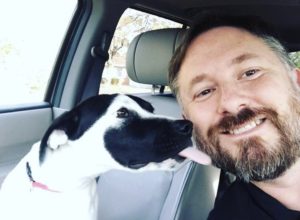 One of the fantastic attributes of Dr. Rackley is his dual-ability to not only remain a professor or colleague, but become a close friend, too. Ms. Reganato, another Psychology professor at Emmanuel attests, "I've had the privilege and honor of being Dr. Rackley's student and now colleague. He has been an amazing mentor and never ceases to encourage me and speak God's Truth to my life! I'm so blessed to have such an awesome friend and colleague! Thank you for being you, Balackay!" Dori Oxendine shares similar sentiments, saying "Dr. Rackley is [one of] the most influential people on campus. I love being a student of his, but also a friend! There is no other person like him, and I'm thankful to have him in my life!"
Two other students of Dr. Rackley note the atmosphere that he sets within his classroom. He knows how to make it a better, more comfortable environment. Danielle Mabry explains, "Dr. Rackley is a wonderful professor! I've had the pleasure of having him for several classes. Each time you walk in the class, you instantly feel welcomed and appreciated." "Some things I really like," Noah Adair adds, "are his willingness to help (he trie[s] really hard), his desire to connect with people – he really gets to know everyone he encounters, which is really refreshing, [and that] he challenges his students; he doesn't give them work. He challenges them to be something more."
Dr. Rackley's peers and pupils are fortunate to have his prints on their lives, and there is no doubt that they will be impressed forever. Cody Norris expounds, "Dr. Rackley is more than a professor, psychologist, and photographer; he is a friend, a mentor, and most importantly, a Christ-like role model for the many students that look up to him. The role that he serves on the Emmanuel campus is one that requires someone extremely special, and the impact that he has had on the students is one that they will carry with them for the rest of their lives."
Dr. Rackley wrote in Chris's latest book, Underwater. Click here to purchase.