Saturday morning, March 14, 2020, my schedule changed. And my life changed.
I didn't sleep well Friday night, thinking about three upcoming trips. Early Saturday morning I canceled those trips, and felt sadness. I would miss seeing people. I would miss telling stories. I would miss reading poems. I would miss selling books.
But I didn't know what person I was soon to no longer be around. I didn't know how my story was about to change. I didn't know how my sadness would deepen.
I cancelled trips. I talked on the phone. I waited to hear if my plans to travel that afternoon to speak the next day would also be changed. I talked to my sister Janet on the phone—neither of us had heard from Pops that morning. Debbie answered another call, a phone call of concern: a friend had not heard from my father. My phone said it was around 9:30am. Pops always called her by 8am. Each morning. But not that morning.
I drove to his house, carrying worry with me. Without writing more about that part of the story, I'll just type this: my father had died.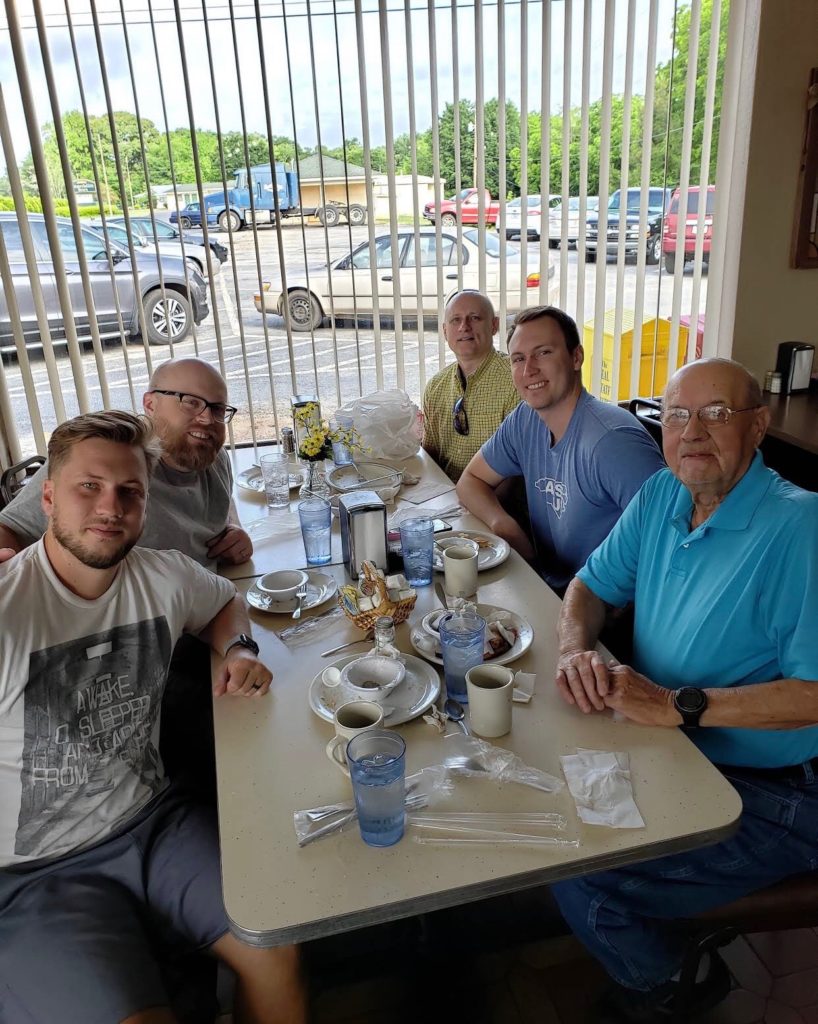 His body reached a conclusion that 90 years was long enough. The many decades, the many medical tests, the many meals, the many bills, the many ball games, the many conversations, the many prayers, the many days, the many nights, the many miles, the many smiles—90 years was long enough.
That was a Saturday of phone calls, of decisions, of memories. Debbie and I talked to our sons, my sisters, our friends. My mind rushed through my 59 years, imagining mental images at a rapid and painful pace. Childhood home on Tate Street. Basketball and baseball and football. Family meals. Mama. Her life. Her death. Janet and Laura. Church services. Our sons. Their marriages. Their kids.
Sitting down for a moment in the place I sat Thursday night, I reflected on my final conversation with Pops. He purchased five copies of my new book, "embracing now." I told him stories about a few of the poems, not knowing if he could really hear what I was saying. We talked about his health, his finances, where he might live if he could no longer live alone. We talked about family and the how fast the world is changing. We talked about Mama. We both confessed how we miss her more than ever, this many years after her death.
Then I reminded him of my plans for the weekend, hugged him, and said goodbye. He walked with me to my car. I rolled down the window and we talked a few more minutes. We laughed—I can't remember what about. I drove away, glancing again at his elderly body walking slowly into his house. We made eye contact one more time.
He sent the family a group text Thursday night.
He sent the family a group text Friday morning.
He sent the family a group text Friday night, writing, "Y'all need to come to my house. Everything is really rocking here. Ha ha ha. Neighbor cut my grass this afternoon. Smells and looks good. Everyone sleep good and get plenty of rest. You need both. Love to all."
His final response to our responses in the conversation? Two words: "Great time."
I guess, now, his final two words fit. They're appropriate for where he is and what he's doing.
During this week of time with my sisters, going through his belongings, staring at pictures, selling furniture, cleaning his house, counting the golf balls and napkins which had to be the most ever kept by one person in a truck, gathering the gift certificates he forgot to use which also had to be the most ever kept by one person, we've smiled and laughed as a family. We've cried. We've asked questions. We haven't really had a "great time," but we've felt these three words from his group text: "Love to all."
I guess I'll stop writing for now. I guess I'll end with these suggestions:
– Text them, call them, visit them one more time.
– Forgive.
– Listen well.
– Save pictures.
– Work hard, very hard, to maintain healthy relationships.
– Use any gift certificates you are given.
Well, maybe I'll end with words from Pops. They fit even better now, knowing where he is:
"Y'all need to come to my house. Everything is really rocking here."