Another Day Along the Way
Wednesday, December 28, 2005
Another day,
Twenty-six years. That is how long it has been. Twenty-six years.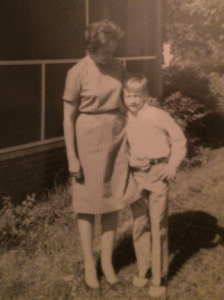 Yesterday was the anniversary of my mother's departure from earth.
Photo albums reveal she really did live for nineteen of my years. When my hands turn pages and my eyes stare at pictures, I see history. Her smile looks so large in her small body. Her facial expressions help me almost hear laughter. A shot of the family at a kitchen table allows me to smell our ancient mornings: the coffee for them, the orange juice for me, the eggs and sausage for us all.
Songs adjust the channels of my brain. They turn me toward Georgia, toward mountains, toward confessions, toward a dance. They turn me back in time. I hear again as she sings along with Johnny Cash while he walks the line. I hear again as she sings along with her songs and my songs and our songs.
At ball games I imagine what she might be saying, how she might be cheering. At church services I guess about her dress, her prayers. At home I want her talking to my wife and her grandsons. In the yard I want to ask her how to keep flowers alive. In the car I want to tell her to listen to my favorite music while I drive. In the mornings I want her up early for a walk with her only son.
I called her Mama. When I one day meet her in heaven, I plan to call her Mama. Until then, I must do what Mama told me many times. I hear the southern accent, the soft heart, and the firm faith as that sweet voice said, "Come on, now. You can do all things through Christ."
Rather than arguing with her, I need to listen to Mama. Rather than just thinking about how much I still miss her after so many rapidly racing years, I should recall what she taught me. About life, about love, about laughter: I need to remember.
And, just in case they go online in heaven, I need to tell her this: "I miss you so much."
Along the way,
Chris Maxwell
Prayer Surrendered: If I should die before I wake…
https://chrismaxwell.me/pause-christmas-gift-bundle