Chapter 13: Select Times to Be Alone
Select Times to Be Alone
Have you lost something of value? A mobile device or a new gadget? A memory you thought was safely stored in a computer? Or a memory you thought was stored in your mind? How did you feel? How did you respond?
When a mobile device was not where I thought I had placed it, I did not sit back and do nothing. I searched. I pursued. I aggressively looked for the hidden, the missing, the needed, the wanted.
Conversations with God are not just ritualistic addictions or habitual duties. They are not boring assignments. They bring awe. They offer delight. They are world-changing, life-changing, mind-changing experiences. They are phones from an inner life allowing us to hear a Voice. They are moments plugged into a Power's mighty charger. They are segments of time saved with the Word from before time's beginning. They are honoring a Name above all names.
Selecting times to be alone are choosing to sit back, packed with awe, bursting with delight—and do nothing so we can do what matters most. Selecting times to be alone are searching, pursuing, aggressively looking for the Hidden, finding what is so often missing. Selecting times to be alone admit we are the needy and the wanted.
If you have lost the value of alone time, of prayer, of quiet time with God, of noisy songs of praise, of silent reverence, of desperate petitions, pray that your Leader will teach you to pray. Do not delay. Slowly, honestly, and by choice, begin today. See it not as a forced or required assignment. See it not as an action where you'll be graded on the value of your performance.
It is awe.
It is delight. But how?
Turn off the television and the computer. Don't answer the phone. Don't hurry or rush. Hush the noise. Push the to-do list aside and be still by His side. Set up an appointment with God. Let nothing rob Him of your time. Think about God: His love, His acceptance, His forgiveness. Sing. Smile.
Walk and talk.
Listen.
Take a verse of Scripture and pray it aloud. Stare at busy people and pray for the crowd. Think of one person and change their future with your requests. Think of the person you are, the person you long to become, the person God has created you to be, and pray with faith choosing to see yourself as new.
Voice your mistakes to the Forgiver. Request miracles from the Surpriser.
Remember Christ's crucifixion; rejoice in Christ's resurrection. Bow before God the Ruler; jog through your yard with God your Father.
Choose to spend time alone. Imagine Jesus beside you. Journal the conversation you have with Him. Imagine several friends walking up to engage in that dialogue. Picture Jesus smiling at you, then at your friends. Who do you hope arrives? Journal what the conversation might be like.
That might mean to rest while we hurry, to be silent while we're noisy, and to be consistent though unpredictable. That might mean taking a day off when you normally overwork, leaving for a Sabbath week, or taking a day alone with the God you serve.
Questions
Is it difficult for you to be alone?

It is hard for you to do nothing?

If those are tough for you, what are the reasons?

What are practical ways you can choose to pause in your hurried routine?

How can scheduling times of simplicity, reflection, prayer, study, and rest help you find a better balance in life's constant haste?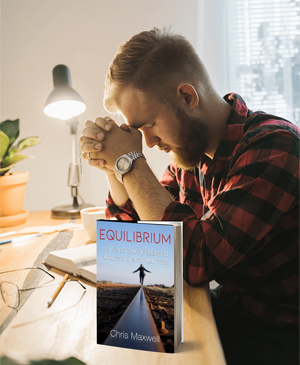 I have had the privilege of knowing Chris Maxwell for over twenty years. His voice is one of encouragement, steadiness and direction in my life. His words bring pastoral adjustments with encouragement to live fully alive. His words provide a nudge towards a place of balance—an opportunity to discover equilibrium in life and in matters of the soul.