Visit HERE to purchase your copy of Underwater.
Chris could remember the name of everyone he met prior to his illness. That changed after Chris was diagnosed with herpes simplex encephalitis. His MRI of the brain looked like Swiss cheese, and I knew it was permanently scarred. Chris was rapidly treated with medications as, luckily, herpes encephalitis was treatable with medicine. Chris developed seizures as a result of his encephalitis, which isn't uncommon. His seizures eventually became controlled with medication.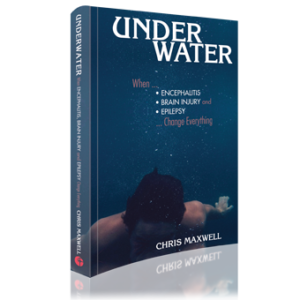 After hospital discharge, Chris needed extensive rehabilitation. One of Chris' biggest problems was learning to speak, name, and comprehend. The encephalitis destroyed his left temporal lobe, which is important in such functions as memory, naming, expressing emotions, hearing, and auditory processing. Seizures commonly develop in the temporal lobe as well.
Thankfully, Chris was innately stubborn, and this served him well during his rehabilitation. He gradually regained the ability to speak and comprehend. His language skills improved exponentially—nothing short of a miracle.
Now Chris is a prolific author and lecturer. He has truly taken a lemon and made it into lemonade. Chris has become a passionate epilepsy advocate, and speaks internationally about his experiences overcoming his illness and epilepsy.
If any neurologist looks at Chris' MRI of the brain and then sees Chris, they can't believe they are looking at the same person. Chris could easily have gone into a deep depression over his illness. His tenacity to stubbornly refuse to lose is what made him into the winner in life that he is today.
I hope that when you read Underwater: When Encephalitis, Brain Injury and Epilepsy Change Everything, you will realize that, like Chris, you too have the ability to dominate over your obstacles. Don't let epilepsy or your illness define you. You can succeed in life if you believe in what you are doing and are willing to fight for it. I hope that you will like this book and that it will help you in your journey through life.
-Hal S. Pineless, D.O., FACN President, NeuroCare Institute of Central Florida, Winter Park, FL Clinical Assistant Professor of Medicine (Neurology) Florida State University College of Medicine Medical Director, NeuLife Rehabilitation, Mt. Dora, FL