What does it look like to chase a dream? What does it look like to pursue a calling that has been placed on our lives since before conception?
For me it looks like Nepal – 8000 miles away from what I know to be home. It looks like giving up everything. Pursuing my dreams looks like giving up comfort and the life I knew for my first 30 years.
Since I was little, I have dreamed of helping others and of making an impact on the world. I didn't quite understand the magnitude of the calling that Papa God placed on my life and, to be quite honest, I still can't fully grasp it.
Any time I was asked growing up, "What do you want to be when you grow up?" my answer was "I want to be a counselor!" I did not know exactly what a counselor did, but I knew they helped people in the deepest ways. It was a desire God had put in my heart from the time I was in my mother's womb. As I got older, that dream just grew.
Life was not the easiest growing up. I moved around a lot, my family fell apart in crazy and intense ways, and I didn't understand who I was. I had no idea of my identity. But through the hardships, drugs, alcohol, sex, and grasping at anything and everything that would fill the emptiness I held, I knew that Papa (1)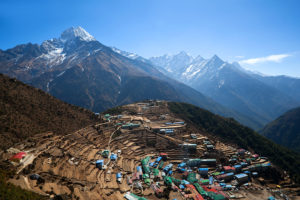 was so close! Sometimes it would anger me and I would dive deeper into all the wrong things, hoping He would give up on me and walk away.
Why did I do that? Why did I want Him to give up and walk away? It was simple. I didn't believe I was worthy of His love. I didn't believe I was enough. I didn't understand that my identity hung on the fact that I was His. I didn't understand the meaning of true, unconditional, pure, and selfless love.
It is amazing what happens when Papa rewires and reworks our thinking, our understanding, and our hearts. We begin to believe that we are worth more than the lies we believed. We begin to step into sonship and understand our place in kingdom. We begin to see that the destiny for our lives is simply to fall in love with our creator.
"Nepal is the open door to your destiny." A friend of mine spoke to me a couple weeks before leaving the states for the first time to chase after the dreams that Papa had put on my heart years ago.
Six months ago Nepal was hardly on my radar! I had planned on going on the World Race but when Papa asked me to step away during a 10 day intense training camp to prepare for life on the field, I was a bit confused. He was asking for a completely different yes than the yes I had given just 5 months previous. But had I heard wrong?
I had given up my entire life – I had resigned from my job, sold my car, my home was about to be given to another, and He had asked me to give everything away. Walking away looked crazier than giving up everything to travel the world to 11 different countries in 11 months with people, family, I had literally just met face to face. I was leaving some of my best friends and for what? The unknown! One of the most amazing revelations I had was that even though it was unknown to me, my Papa knew it all and nothing was a surprise to Him!
While I was at training camp in October, Papa spoke "beauty for ashes" to me. I had heard this before but this time was different. He then began working on my heart and revealing my dreams in an entirely different way than I had ever experienced before. He confirmed Beauty For Ashes three times, by three different people, in three different situations, and two of them were specifically about Beauty For Ashes Nepal.
I did not have any idea what it was going to look like, but I left the World Race and started on an entirely different journey with Papa. He revealed and confirmed more of what He has created me for. He has wrecked my heart in a deeper way and has opened up doors that I did not even know existed. Nepal is an open door to my destiny and Beauty For Ashes is but just a part of the beginning of the rest of my forever!
Isaiah 61 is Beauty For Ashes heart's cry! Our desire is to proclaim good news to the poor, to bind up the brokenhearted, to proclaim freedom for the captives and release from darkness the prisoners, to comfort all who mourn, to provide for those who grieve, to give them beauty for ashes. It has become a safe haven for beautiful women who have been swept aside, abused, and have been at risk for exploitation.
Beauty For Ashes is full of dreamers just like myself. The desire to know Papa in a more intimate way is the first dream that many of these beautiful women have. To know and understand Him deeper so they can disciple others the same is a dream that many hold in their hearts. One woman dreams of being a chef and another a lawyer. Others dream big for their families, for health, to be able to learn English, and even own their own home.
The dreams of the women of Beauty For Ashes are not much different from mine or yours. They are very real and the women here are given the opportunity to chase after those dreams. They are also learning how to walk in the authority as a daughter of the One True Father and to pursue Him before anything else.
Dreams are coming alive and are being fulfilled because Beauty For Ashes has taken a stand, has said yes to Father, and has gone full force after the women of Nepal to teach them of their identity. Our identity is in that of Father and no one else. He puts desires in our hearts to fulfill our destiny and live out our dreams.
What are dreams if we don't live them out? Just good ideas wading in the streams of our minds and the currents of our hearts without anywhere to go. If we don't actually live out the dreams that have been planted in our hearts and we never get to a place of birthing them, then they literally just lay dormant and stay good ideas until they eventually die rather than becoming the reality of our destiny. If the reality of your destiny comes to fruition, not only is your own life impacted, but the world around you and afar is impacted as well.
Leave your mark on the world! Let Papa use you in crazy, radical, impossible ways, and be a conduit of Love, for the sake of Love, releasing heaven on earth!
If you would like to know more about Beauty For Ashes Nepal or how you can get involved, please visit the website at beautyforashesnepal.com. You can also follow Beauty For Ashes Nepal on Facebook, Twitter, Instagram, and Pinterest! If you would like to know more about my journey or information on how to partner with me, please check out my blog at kaylamarie85.wordpress.com!
(1)   Papa for me is so intimate! It says in one simple little 4 letter word that I see Him as my protector, my provider, my Abba. He is the one that has my heart in the purest ways and He never lets me go. It is my way of saying I trust Him with the deepest parts of my heart and it is my way of verbally expressing my affection for Him!