Visit HERE to purchase your copy of Underwater.
I remember the day in March 1996 when we received a phone call that our friend and pastor Chris Maxwell was in the hospital, and they weren't sure exactly what was wrong. We came to learn that he was diagnosed with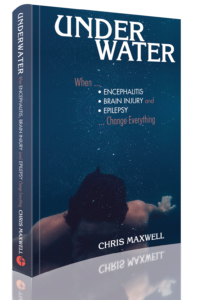 encephalitis which is swelling in the brain. This educated, articulate, and compassionate man had to relearn how to hold a spoon, use the bathroom, and his family's names. All of a sudden, Chris was not the man we knew before. Little did we know the intricate plan God had before him or the people he would meet and touch along the way.
As Chris struggled to learn things all over again, he faced frustrations but also experienced miracles! His healing and accomplishments far exceeded what anyone thought possible! People he might not have ever met if it weren't for his illness were touched by his authenticity and his raw love for God. The struggles brought Chris further in his faith in a new and fresh way that he may not have reached had he not gone through those physical and mental difficulties.
Today, Chris is educating and inspiring others who have epilepsy. A beautiful picture of how God turns what appears to be a tragedy into blessing, growth, and inspiration for others!
– Marsha Bozeman, Family Nurse Practitioner