We recently blogged Psalm 24. Today let's focus on another ancient prayer.
Read Psalm 63:1-8, and reflect in David's honesty:
You, God, are my God, earnestly I seek you; I thirst for you, my whole being longs for you, in a dry and parched land where there is no water. I have seen you in the sanctuary and beheld your power and your glory. Because your love is better than life, my lips will glorify you. I will praise you as long as I live, and in your name I will lift up my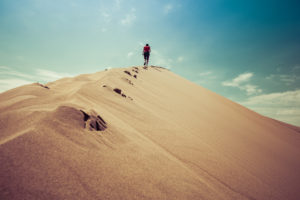 hands. I will be fully satisfied as with the richest of foods; with singing lips my mouth will praise you. On my bed I remember you; I think of you through the watches of the night. Because you are my help, I sing in the shadow of your wings. I cling to you; your right hand upholds me (Psalm 63:1-8 NIV).
Pray his honest poem. Embrace his journal, study it, read it again — slowly. Read it aloud. Sing it. Journal your own version.
What about your drought? Is it time for rain? Or is God wanting to give rest in the moment, assuring you that He is with you as He upholds you?
He is our help — whatever the weather. Think of Him. Cling to Him.
This song can help us receive David's ancient prayer.