I love music. I love words. I love writers, singers, musicians who guide audiences to think, to reflect, to notice. The Gray Havens do that. Their folk-pop songs lure listeners into a conversation, an experience. Their lyrics reflect deep thoughts and creative dreams – mixtures that often don't arrive together – influenced by writers like C. S. Lewis, JRR Tolkien, and Jonathan Edwards.
I was honored to interview Dave and Licia Radford in Denver. Welcome their words and receive their challenge.
Chris: I am enjoying your music and I appreciate this time to chat. Let's start by hitting reverse – going back in time to tell me what has taken you where you are now.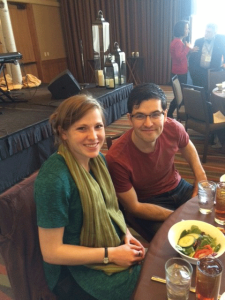 Dave: I started writing music after I graduated high school. A friend introduced the idea of writing music – something I'd never done. I started writing and really enjoyed it. I couldn't play any instruments but I had a background in singing and choir, so after that it took off as a hobby. By my junior year of college it was much more than a hobby. It was taking up a lot of my time. I would be testing out a lot of these songs with my friends – you always need somebody to let you know if it is good. Sometimes I would just grab strangers. I was a music student so I was in practice all the time. When I was supposed to be practicing I would be writing. So I would open the door and say, "Can you tell me if this is good or if this is horrible." So I kind of cut my teeth on writing in college and getting feedback. It eventually took on a form. I started seeing a pattern of narrative in the lyrics. It wasn't really intentional. It wasn't like I'm going to do this. It was more of a response and reaction to stories that have shaped me. Singing story is something that is unique as a backdoor to the heart. Then graduated college and we met.
Licia: Dave was the musician and I was being supportive of what he was doing. At that point he had written a few that we have recorded. I just fell in love with the stories and with what he was doing. And after dating about a year we got engaged and decided we would sing together. I knew I could sing but I didn't have any experience doing it. But we decided to give it a try. So I sang some of the background vocals on our first EP and then slowly after that we morphed into a stronger duo – my vocals were louder and he started teaching me instruments so when we played live I could be a part of the show.
Chris: As I listener, I can tell you both are "together." Sometimes you hear groups singing together but they aren't really "together." Same key but not same personal mood. You guys are. I love how you are walking together, crying together, feeling together in your music. So, what took you from there to where you are now?
Dave: We recorded quickly. We did a Kickstarter project for it. Friends and family supported us, and then we had this album to release. To get some practice we had this coffee shop near our home. They had a small stage they weren't using so we asked if we could play there one night in exchange for coffee. They said yes. We played cover songs – we weren't very good and just our family came and people from church. They all came again the next week and we played the same songs. We just kept adding some stuff. We didn't have any idea that this is going to take off. We just tried to play music.
Licia: Yea, when we recorded the EP we didn't have any major plans or expectations. We just had an opportunity to record. Dave had wanted to do that and we really liked the guys we made it with. We enjoyed it. We wondered if one day we might be full time musicians but much farther down the line that what actually happened.
Dave: What catapulted things was NoiseTrade – free service to exchange your album for your email address. So we put it on NoiseTrade and they asked, "Can we feature this?" And we said yes. So they did and we got thousands of hits on it and downloads. That became our mailing list. We reached out to everyone on that list and asked if we could do a tour with this album. We thought of going six hours away but for some reason everyone in Pennsylvania emailed us..
Licia: Which is not six hours away.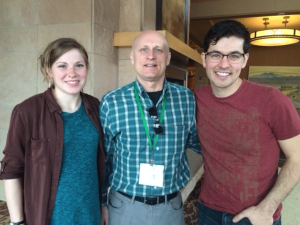 Dave: Yea, so we played this east coast tour. That was our first experience. So it has just been building upon that.
Chris: To a person who has never heard your music, how would you describe your style?
Licia: We describe it as narrative pop-folk.
Dave: I would say it's thoughtful, thought provoking. Not just a beat. Very story oriented. Kind of in the genre of singer-songwriter. That's what we sing.
Chris: I believe spiritual formation is related to everything we do. God in the moment. God at the table. God in the conversation. I can tell you are deep readers – narratives and stories are embedded in your music. For the spiritual formation students, as artists how do you bring everything you experience to the same table as your relationship with God?
Dave: I like what you said. The point you are making is that isn't a real divide between what is sacred and what isn't. If you look at Scripture you will see it as a reminder of God using people and what that really means. At one point God has Moses compose a song to teach his children. So that decades later when they have fallen they will remember who God is. But the way He chose to do that was through songs. You can't get away from the universality of music's influence and all of its powerful effects.
Licia: In Zephaniah it says God rejoices over us with singing. I don't know exactly what that means but if God is singing how beautiful that must be, and also it is important that we sing. We should appreciate music. There is something about music that can break down the intellectual barriers sometimes. We try to have weighty things in our songs that David writes but we try to have a melody that can kinda come in the back door and catch us off guard. It can help us see things differently even if it is the same idea we have seen somewhere else.
Chris: We need to present strong words in gentle ways. Your songs include deep theology but instead of standing in front of the listeners and pointing, you are standing beside us and inviting us to walk with you. What about your future?
Dave: We met an amazing web developer. Our Web site is just a one page site that has everything there. It has the booking link – I handle the booking side of things. That's the best way for people to get in touch with us.
Licia: If people are interested more in what our music is like live, we've been building up our YouTube channel. There are videos people can watch there.
Dave: And we can give away a song on your blog. We have a baby boy on the way but we are scheduling for the fall.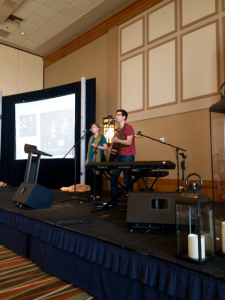 Chris: Thanks again for our time together. I'll let some college students pick which song you should give away to our audience. In your busy schedule continue to enjoy this journey. As you are rushing from one event to another and as you are raising a child, don't just be obsessed with the goals you want to reach. Enjoy the now. Each song and each word and each moment – remember the smiles of God's face.
If you would like a free song from The Gray Havens, please CLICK HERE.
Here is a direct site for their BOOKING.
Here is their website for more information: www.thegrayhavensmusic.com