My preschool years are pretty much a blur by now but, for some mysterious reason, I have a distinct memory of one afternoon in kindergarten when a classmate picked up the red crayon on our table just as I was reaching for it. Uncharacteristically, I protested rather sharply. I don't remember what I said or whether I snatched the crayon but I know my thought was: How dare she? I need it! Anyone could have clearly seen that I absolutely needed to have the red to complete my drawing!
Despite this serious approach to color and art when I was little, I pursued studies in applied sciences after high school. That didn't work out in the end but it seemed like the proper, mature thing to do at the time. Pablo Picasso probably had people like me in mind when he said, "Every child is an artist. The problem is how to remain an artist once he grows up." This statement has resonated so much with me in recent years that I used it in the introduction of my latest book, Restore My Soul, a devotional coloring book that has brought me full circle back to those days in kindergarten four decades ago. Ursula Le Guin also observed: "The creative adult is the child who has survived."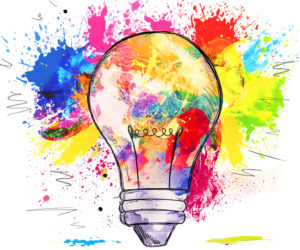 I've been a late bloomer most of my life, trailing behind others in trends and everyday achievements, yet I was on the coloring book bandwagon before the bolts on the wheels were even tightened. However, I was doodling my own pages rather than coloring other artists' illustrations. Next thing I knew, coloring books for grown-ups was a "thing" and friends were urging me to create a coloring book of my own. I was flattered but I also knew I didn't want to simply add to the growing pile of coloring books. There were far more talented illustrators out there and I was wary of straying from my calling as a writer.
When an editor urged me to put together a proposal, I thought about the possibility more seriously and decided that, if God was opening a door, I'd walk through. Still, I wanted my book to have more substance than the average coloring book, to have a good reason for existing. Since I am primarily a writer and am especially passionate about writing devotionals, it occurred to me that I might be able to create a devotional book in which the coloring pages were a secondary feature… a complement to the devotions rather than just a way to pass the time. My idea was that the coloring pages would serve to reinforce the message of each devotional as readers pause to reflect and pray while coloring. So I put together a proposal, sent it off to my agent and jumped for joy when I heard that a publisher accepted it.
When my father first heard about the project, the words "coloring book" stood out for him and, raising his eyebrow, he cautioned me about wasting my time. "Remember: You're a serious writer!"
That was a year ago. Today, Restore My Soul has become one of my favorite projects and a quick bestseller. And the feedback on the devotional aspect of the book has made Dad proud. It's been a blessing to be able to share with so many people about my experiences in my walk with God through the 40 reflections and then encourage them to meditate on biblical truths while they color. God made a way for me to blend together my "serious writing" with my quirkier creative side!
One unexpected bonus to all of this has been the opportunity to encourage those who believe they aren't creative, as this is a subject dear to my heart. I believe that everyone is creative, even if that creativity doesn't necessarily manifest itself in an artistic way. I often have to reassure people that coloring books are not exclusively for artistic types. Sure, some people will spend hours on a page, blending colors, shading sections just so and carefully staying inside the lines. That gives them pleasure and, if they share their work on social media, they may get enthusiastic responses. There's nothing wrong with that but it shouldn't be everyone's goal when picking up a coloring book.
The main purpose for coloring is to simply enjoy the experience—whether it's the physical act of rubbing pencils or markers on the paper, or the chance to clear your head while engaging in an activity that reminds you of the simpler days of your childhood. If coloring in a book becomes stressful for any reason, you're doing it wrong! My advice is to not compare your work to what you see online unless you're looking for ideas. If the work of others makes you think yours is ugly, turn your computer off. No one has to see your coloring. Just enjoy it in the moment and let it be something between you and God.
By the way, my favorite color is still red.
Ann-Margret Hovsepian is a freelance writer and illustrator in Montreal, Quebec. She is also the author or co-author of several devotional books, including Restore My Soul, which was released on April 1. You can connect with her at www.facebook.com/ann.hovsepian.authoror visit her website: www.annhovsepian.com.