Christmastime means a lot of different things to everyone. Everyone has a million different holiday preferences from music (even dislike of Christmas music), decorating, not decorating, the kinds of food, crazy schedules for church plays, shopping because you want to, and even shopping because you feel obligated. Christmas brings back memories for everyone, I think, whether good or bad. In my life, it has a way of triggering some of the most intense sensory recall.
Most people I know nowadays tell me that Christmas isn't special to them anymore because it comes so fast and it has somehow lost its magic. When we were kids, Christmas was a miracle all on its own, but being an adult, it doesn't always feel that way.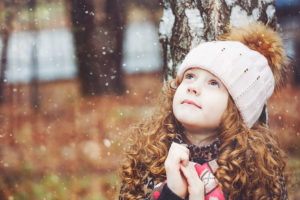 This is when we have to remember, all of that other stuff doesn't carry any weight. They're just things and events—preferences just like any other season. However, the Bible gives us this beautiful promise in Isaiah 9:6 that we can keep in the forefront of our minds about what Christmas actually is.
6 Hope of all hopes, dream of our dreams,
    a child is born, sweet-breathed; a son is given to us: a living gift.
And even now, with tiny features and dewy hair, He is great.
    The power of leadership, and the weight of authority, will rest on His shoulders.
His name? His name we'll know in many ways—
    He will be called Wonderful Counselor, Mighty God,
Dear Father everlasting, ever-present never-failing,
    Master of Wholeness, Prince of Peace.
(The Voice Translation)
In this Christmas season, do you need renewed hope or a reminder of the dreams that God has placed inside of you? Jesus is our hope and He dreams with us. He is our living gift. He is exactly what we need, even when He isn't the first thing we ask for. Do you need someone to be strong for you? He is strong. Do you need a friend and someone to help you find your way? He is your counselor. Isaiah promises us that Jesus is with us always, and He will never fail us. He makes us whole and He brings us peace.
These are things I personally find myself in need of at all times, and maybe Christmas doesn't seem so exciting in the mystical way it did when I was little. But Christmas is the time when the hope for humanity and the one who has set me free was born. We literally have no other way to respond than to celebrate!
Maybe we can't wrap our minds around what this means or we have heard these stories a million times, but think about what it is we are truly looking for this Christmas and allow Jesus to be that. Allow Him to bring renewed excitement about who He is and what He came to do. Then bring that passion into your activities of this season. Let His story come alive and rewrite your story.
Christmas comes with so many wonderful traditions, but the most wonderful news is that, as glorious as those things are, they are only secondary to the Hope of Our Salvation that came alive that first Christmas day!