In Denver I was honored to meet Rev. Percy McCray. My role as a pastor, my experiences with many people battling cancer, my hope to see us live in a climate of teamwork – they all remind me to support individuals and groups who emphasize working together. Rev. McCray and Our Journey of Hope offer the brilliant endeavor of cooperation. I suggest we join them as we face cancer and other health issues as a family instead of in isolation.
Here is my conversation with my new friend.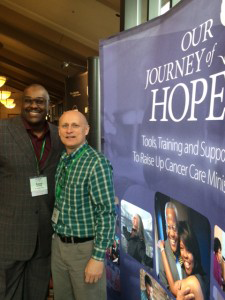 Chris: How did you get to this place you are presently serving?
Rev. Percy McCray: I have worked now for the Cancer Treatment Centers of America for 20 years under the capacity of chaplaincy and hospital pastoral care. I actually was led in that direction by invitation when I graduated from Bible College. I was asked if I would be interested in working in a hospital setting. I had never engaged in hospital ministry prior to that. So it was new and foreign to me at the time. But I agreed to trust the Lord and move in that direction.
I was actually looking specifically to pastor a local church so that was a different shift. But I realized that even though my family and I had never been impacted by cancer or any major sickness, that what I had in common with the dynamics of the cancer patients is that I grew up in a tough urban environment in the south side of Chicago and had to learn how to fight. Being a church kid you just want to love on people and talk it out. So I developed a fighter mentality that I had no idea would develop into a ministry that had nothing to do with the physicality but would help you deal with the tough situations in life. And that is exactly what happens to cancer patients. They are being attacked in ways the average person cannot imagine. They have to develop – from a spiritual perspective – a fighting spirit. That was common to me so I had to focus on that in the ministry that allowed me to encourage, motivate, and inspire people to live, to fight to live, and to be survivors in the midst of very negative circumstances.
So my heart is in a ministry of being a fighter and a survivor. That's who I am. And that's my orientation and my background. It is interesting that the two got married together without me even being aware of it. The Lord married those two dynamics together. So here I am 20 years later serving in Our Journey of Hope.
Chris: Has it been difficult for you personally to be pastoring in that capacity and not in a local church?
Rev. McCray: No. Interestingly enough, I eventually did start pastoring a local church. I started a church and pastored it for seven years while I was working at the Cancer Treatment Center of America. I was able to manage doing both and loved it. Then the opportunity of the Our Journey of Hope program became a real reality that forced me to make a decision of doing one or the other. Our Journey of Hope ministry took me out on the road and traveling extensively where I couldn't commit as much time to the local congregation as they deserved to have.
Chris: Many people are in ministry with pastoral hearts but they look through that lens in our culture that pastor equals leading a local church. Thank you for not looking through that lens. I want us to look through the lens of kingdom work.
Rev. McCray: It is interesting. It was educational for me because, you're right, the traditional mindset of American ministry is all within the four walls of a local church – that is considered to be the highest seat from a ministry perspective. And I received a lot of criticism when I made the decision not to pastor but to pursue this. I came to understand the reality of the point you have made – ministry to the Kingdom of God and the Body of Christ is not limited to the four walls of the local church.
As a matter of fact, the need for ministry to take place outside the four walls is great. Our ministry is a perfect example of that. For the hurt and sick and dying that in many cases the local church might not be equipped and ready to be supporting. Those folks are sitting outside the purview of that and inside our local hospitals and communities that are struggling every day.
Chris: What can others do to support you and Our Journey of Hope?
Rev. McCray: We've come a long way with putting this conversation on the table. We have moved from silence in the local churches to conversations and action at the end of the day. I know of pastors and local churches that have not been prepared to have open dialogue about cancer and sickness, and how to react to it. The partnership we have with people now is looking at the ability to talk about this, to put this conversation in the marketplace to create greater awareness. We want to force discussion of what have we not done, why have we not, and what can we do now regarding cancer and a faith-based support team. Instead of just praying about it, there are other very necessary responses to this that we've avoided.
We are looking for partnership with those who have the power of voice to help spread the message of cancer support to cancer patients and their families from a faith-based perspective. Recent research indicated most families received little or no support from their area community as a cancer patient. That is pretty accurate across the country. There isn't awareness. This needs to be part of active ministry – just like children's church, just like music ministry. It is a missing module in our agendas in local congregations. We have not committed resources to it. We certainly have not committed training and development of individuals to facilitate and execute.
My partnership with the program, as we now have packaged it, is to take this story and tell local churches to understand the value of it. Not run from it but not hyper-spiritualize it either. Just see the value and take action.
Chris: We are so often battling the noisy silence. Many of us say nothing and do nothing. We aren't talking enough about these painful issues.
Rev. McCray: As I understand the histrionics, much of the separation centered around science and wellness and spiritually – and they are still restrained from each other. It has a lot to do with an influence on the medical side that doesn't view spiritual practices as important, and from the faith community refusing to engage in dynamics from a health/medical/science perspective. There is this strained relationship.
One of our goals is to lower those walls and bridge those two worlds together so that we can have a greater sense of understanding on the practical ministry side. The people sitting in our pews every Sunday – we just unconsciously ignore what their needs are. We don't understand them. We don't really want to get close to that. Therefore we need to make an adjustment with everything we are doing in our worship setting to meet the practical needs. Jesus did that. Jesus addressed the mental, physical, and emotional needs to people from a spiritual perspective. We want local churches to grasp that in earnest.
Chris: What can churches, individuals, and business do to partner with you?
Rev. McCray: The beauty our organization and of The Cancer Treatment Centers of America – who is the sponsor of our program – is that there is no real need to develop or rally additional resources to drive the engine. We are a very well managed organization to be able to make anything functional. We are self-sustained. We don't need to reach out to fundraise. We desire to create dialogue and to have partnership with faith-based organizations to help them understand that there is a holistic model and an integrating model that is best at approaching healthy care. Include the spiritual. Don't be afraid of that discussion.
As the holy health care organization in the United States that has made a conscious decision to partner with the faith-based community and provide a free gift that will enhance the ministry every local church should be called to do – we want to bridge that gap. All tied to the work of Jesus Christ. So again, tied to local communities – cancer support groups that we partner with. Working together from a supportive perspective. All valuing the reality that we have people in our community that are dealing with sickness. Providing a place for them to be heard, understood, and to have support to respond to their needs and issues. We want to be the health care partner for faith-based evangelical Christian churches across the country – with no strings attached and wanting nothing in return. Most pastors have not taken courses on caring for the hurting. We are here to help them embrace their arms around the people in need.
The local church has been commissioned by the Lord Jesus Christ to go into the world and preach the good news. The good news isn't just the spiritual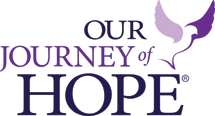 well being of others but their spiritual, emotional, and physical well being. We've been commissioned to speak to people that way. We need to specifically speak to the physical well being of our people. We are commissioned to do so. Our Journey of Hope is equipped to empower you to do just that.
To find out more, please check out their website: