Chris: I'm reading Finding God in the Verbs. I loved the title and now I'm enjoying the book.
Brent: Thanks, Chris! I'm delighted that you like it. It was Jennie's (coauthor Jennie Isbell) and my hope to put together something that was more than a book about prayer, but rather a piece that encouraged people to experience it as they read it. I have long been intrigued by language and it's power. It's a power, I think, that often goes unrecognized in our society – and in Christian life. If you read the Bible, you quickly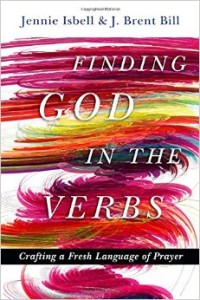 come to understand the power that the people of faith in Scripture thought words had. Indeed, not just the people but God, as well – the power of blessing, cursing, names, and more. Despite my tendency to joke around and stretch the truth a bit while telling stories, when it comes to matters of the spirit, I try to be careful with words – in my sermons, my writing, and so forth. But, I have to have admit, I get a bit lazy when it comes to my prayers. It seems I repeated certain "go to" prayers over and over. I wanted to move past this and working with Jennie helped me do that.
Chris: What motivated you to write this?
Brent: Well the first thing that motivated me was attending a workshop that Jennie led called "Finding God in the Verbs." It was amazing – it showed me again the power of words – this time in prayer. As soon as the workshop was over, I approached her about turning her idea into a book. Then we decided to collaborate and expand the ideas. It soon turned into a true collaboration as we thought about how the nouns, verbs, and other parts of language really reveal how we feel about God (active or passive, distant or close, etc.), the human condition, and Divine/human interaction.  Another thing that motivated me is that I have always felt like a really inadequate pray-er. I wanted to write a book that spoke my spiritual condition and gave me tools that would lead me into deeper, more authentic praying.
Chris: What do you hope readers receive from the book?
Brent: The first thing is that perhaps they'll recover a sense that prayer is active and life-giving – when it's authentic and from our deepest parts, that is. The second is that they may come to realize that God really desires their prayers in the sense that praying is a way into the most important conversation of our lives – the conversation between God and us. Third, because this is most important ongoing conversation of our lives (even more than with our spouses, children, parents, others), it deserves attention in love brought to it. And it deserves our most heartfelt words and thoughts. It needs to be as transparent as it can be – to us and God. We need to stop hiding behind safe words, good words, gentle words – especially when they're not true to our condition or life at that minute. We need to be more like Job or Jonah or Jesus and pray authentic words, words that beg, argue, love, and more.
Chris: My "pause" series of books comes from my own encounters of finding God in everyday life. Describe how you practice this in your own life.
Brent: Ah, part of being a Quaker (which both Jennie and I are) is recognizing the "holy ordinary" – the sacraments of daily life. And so this book follows my tradition of writing books that speak to the amazing way God breaks through in daily life and daily language. I am no expert in the spiritual life. So I don't write as an expert. I write as fellow pilgrim – one who needs to encounter God daily in the stuff that I'm going through. While I love going to my Quaker meetinghouse for worship with other Friends (we Quakers are known as the Religious Society of Friends), I can't go for week before I have another touch of God. I need them daily. So one of the things – and we talk about it in the book – I do is what Jennie calls "grace-spotting." Looking for signs of God everywhere. For me, sometimes that includes "praying with my camera." That's what I call it. I pick up my Nikon and head out for a walk, looking for signs of grace – in the light that transforms an old farm dump into a thing of beauty (at least to me), for example. "Redemption everywhere I look" as my friend the singer Carrie Newcomer sings.
Chris: How can readers pick up a copy and how can they find more of your thoughts?
Brent: Finding God in the Verbs is available in all the usual places – independent bookstore, religious bookstores, Barnes & Noble, Amazon, et al. Jennie and I both have blogs. Jennie's is at https://www.jennieisbell.com/blog/ and mine is at Holy Ordinary: The Sacraments of Everyday Life. I'm also on Twitter @brentbill, on Facebook at J. Brent Bill: Writer of Rare Books, and on the web at Brent Bill – Jennie's also on Facebook. And you can reach either of us through Finding God in the Verbs We do lead workshops on the book and are happy to travel around the US and Canada doing so.
Chris: Any final comments?
Brent: Just that I really appreciate your taking time to talk with me about our book. I think it's an important book and hope that readers finding helpful in revitalizing their personal prayer life. It was blessing to write – and I hope readers will find it a blessing to read.
"Authentic, meaningful, strong and courageous prayer words help us stand before God spiritually naked and soulfully transparent." (Finding God in the Verbs: Crafting a Fresh Language of Prayer, Jennie Isbell & J. Brent Bill, InterVarsity Press, 2015)