The vulnerability of writing a book is a bit overwhelming. My thoughts, my feelings, and my personal experiences are just out there for the world to critique.
But it is exciting too. This endeavor is more than just publishing my first book. It is a crazy step into a new season. My trip to India last November totally rocked my world. God spoke a lot of things to my heart on that trip about my calling and future. As a result, I'm leaving my position at Southern Wesleyan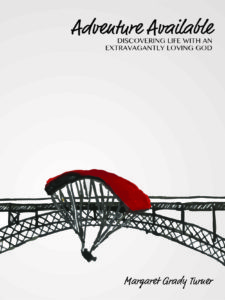 University so I can promote the book and start working on the next one. For the first time in eight years I won't have set office hours, a steady paycheck, or a fancy name plate with a title.
I believe the most beautiful things in our lives also come with the most risk. The safe life is rarely the satisfying life. So I'm making the jump. I'm driving into this new endeavor, not without fear, but with confidence that our stories are the most beautiful when we follow the Holy Spirit's promptings.
I wrote this book, Adventure Available: Discovering life with an extravagantly loving God, because I believe early adulthood is a precious gift, a powerful season of life. It is not an extended adolescence, nor is it time to kill before a more important era begins. The twenties are a defining decade, the foundation for a life of adventure. I hope this work will inspire young adults, college students, and even those beyond their twenties to embrace the adventures available in life with God. I hope it will defeat any ideas that life in the Kingdom is boring or religious or limited. Mostly I hope my story will confirm the truth that our God is good, and ready and able to transform us into agents of love, hope, peace, and joy.
Here's to the adventure!
Purchase Maggie's book on Amazon HERE.