Several years ago, my husband, Josh and I went with a group from our church to Table Rock in North Carolina. The goal was to hike to the top. We had never been there before, but had heard about the beautiful view, and the man organizing the trip assured us that it was an easy one-hour hike. It was a beautiful autumn day with clear, sunny skies and mild temperature. We started out on our hike with great anticipation of what awaited at the top: the breathtaking view we had heard about.
After an hour of hiking, it became clear that this was no easy trail. We were only a third of the way up, and the trail was a sharp and rocky incline. Another third of the way up, the trail became so steep that we were climbing over rocks on our hands and knees. Both of us were moderately active and fit, but were not experienced hikers by any means, so we were getting tired. But we pushed on, determined to get to the top and see the beautiful view everyone kept talking about. The last stretch, being the steepest and most difficult, seemed to last forever. Legs and lungs burning, tired and hungry, feeling like we couldn't go on another step, we finally made it to the top. And it was a breathtaking view; we could see miles of beautiful landscape, a couple of waterfalls, and the mountains beyond.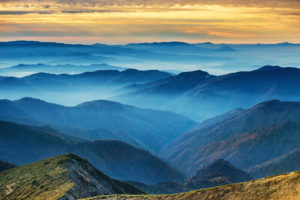 We sometimes still talk (and laugh) about that "easy" hike up Table Rock. It was fun, it was beautiful, it was memorable, and it made us feel that we had accomplished something worthwhile. We talk about the memories and laugh about how sore we were the next day, but as I reflect on that trip, I think about the endurance and perseverance it took to make it to the top. There were several shelters along the trail; we could have stopped at any time and waited for our group to come back down. But we didn't. We wanted the reward at the end.
I was recently reading James 1:2-3 during some personal Bible study, and it made me think of our hike up Table Rock. It says, "Consider it pure joy, my brothers and sisters, whenever you face trials of many kinds, because you know that the testing of your faith produces perseverance." Now, I don't consider the difficulty of the hike I have described to be a trial like the ones mentioned in this passage of scripture, but I did begin to reflect on the meaning of the word "trials" and what constitutes a trial. I have known this scripture since I was a little girl, and as I read it again recently, I began to wonder if some of the difficult things I have been through over the years would be considered a trial. I had always thought of the trials in that passage to be only referring to persecution and martyrdom. But the words "all kinds" jumped out to me like they never had before. There are all kinds of difficulties; certainly Christians who experience heavy persecution, imprisonment, and even death have very real and difficult trials. But what about the loss of a job, the rift in a friendship, a deep disappointment, hurtful words, the death of a loved one, difficulty making ends meet – are these not also trials? I realized they are, and that our faith can be tested by any trial, however big or small it may seem.
Being a pastor's wife, I know a little about endurance. In fact, there have been some seasons of life that felt like an endurance test; how long can you keep this up without quitting? is a question I have felt has been asked of me at times. Josh and I have been in ministry together for over 7 years, but it feels like a couple of decades of experiences have been crammed into that short time. We have experienced great joy and seen many salvations; we have experienced rejection and many hurtful words; we have buried church members who were dear to us; we have seen children and teens grow in godly maturity; we have helped people discover their areas of gifting and seen them flourish in ministry. Most recently, we have experienced great opposition in our church. We have lost friends who we thought were loyal, we have seen our congregation struggle to thrive, we have endured great conflict, faced discouragement, and we have experienced financial hardship. But in the midst of the difficulty, we also see new growth. We have had words of encouragement spoken to us and have seen our church begin to regroup and strengthen during this difficult time. We know that God has a plan and will bring us, as a body, to a place of thriving. We now know from experience that good things rarely come without a struggle – "the testing of your faith."
Working in ministry, we have both experienced criticism, loneliness, discouragement, and even burnout along with the joy and times of reward. We have struggled to get volunteer assistance at times, wondering, "how many more times can I do such-and- such task without help?" But we have seen that God always rewards faithfulness. He rewards perseverance.
As a mother, I am learning about patience. I thought I was a fairly patient person until I had children. I have had to exercise a new level of patience that I didn't know I was capable of; how many more sleepless nights can I endure? How many more tantrums? How many more messes, dirty diapers, and stained shirts? – I've asked myself these. There have been days I've wanted to quit, but there is nothing like the joy of being with my sons. Their innocence, their sweet affection, their unconditional love and trust, and their smiles and laughter. The joy. "Consider it pure joy…" I always thought that this part of the passage meant that we are supposed to tough it out with a smile on our face, show how strong we are, and be happy about getting to suffer for Jesus. It occurred to me recently that some of the most joyful people I know have been through some tough trials. Been through. We can have joy in the midst of trials, certainly, but I realized that the greatest joy often comes on the other side of a trial. We don't realize how blessed we are until we've lived through something hard, some heartache, some hurt, some difficulty. And sometimes, just the fact that we lived through whatever it was can bring the most joy.
And that joy helps us to persevere the next time: "…the testing of your faith produces perseverance." How wonderful that God brings us joy through our difficult times. This gives us hope. There are all kinds of trials, big and small, and on the other side of each one is joy – a breathtaking view, stronger relationships, a healthy, strong church, beautiful children, a happy family, precious memories, and the knowledge that we have done the right thing in God's eyes.