I asked James Watkins, the author of The Imitation of Christ: Classic Devotions in Today's Language, to tell me about this modernized and organized edition of Thomas à Kempis' best-seller of 500 years. Jim directed me to the actual words of this amazing author:
Thank you for joining us, Thomas. Let me begin by asking, why the "imitation of Christ"?
These are the words of Christ from John 8: "If you follow me, you won't have to walk in darkness." They teach us how thoroughly we must imitate his life and character if we desire true understanding and freedom from our own deceptive hearts and minds. And so, may we earnestly study and meditate on the life of Jesus Christ (I.1).
Your amazing book has been a best-seller for over 500 years, and many consider it second only to the Bible on its influence on Christianity. So, why did you write it anonymously?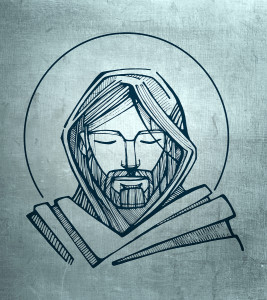 Do not let the writer's authority or learning—be it little or great—influence you, but let the love of pure truth attract you to read. Do not ask, "Who said this?" but pay attention to what is said (I.5)
That idea of putting the message ahead of our pride and our need for recognition seems to be a recurring theme in the book.
The Christ teaches, "My friend, the more you let go of your own desires, the more you will become like me. When you have no desire for outward things, only then you will enjoy internal peace. When you stop living for yourself, you will grow into union with me. I want you to learn perfect self-denial" (III.56).
Your writing also seems to directly contradict today's encouragement to "believe in yourself."
Because grace and understanding are often lacking in us, we cannot place any confidence in ourselves. There is little light within us, and what we do have we quickly lost by negligence. Often, we don't recognize how great our inward blindness is. We often do wrong and, worse, excuse it. Sometimes we are moved by human passion and count it as godly zeal. We criticize little faults in others and pass over great faults in ourselves (II.5).
This book runs completely counter to much of what we hear and read in Christian media today.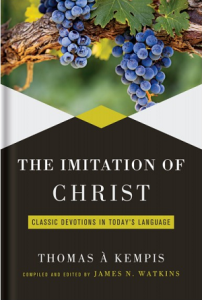 Jesus has many lovers of his heavenly kingdom but few bearers of his cross. He has many seekers of comfort but few willing to face troubles and trial. He finds many companions at his table but few with him in fasting. Many desire to rejoice with him, but few are willing to undergo adversity for his sake. Many love Jesus so long as no troubles happen to them. Many praise him and bless him, so long as they receive comforts from him. But if Jesus hides himself and seems to withdraw from them for even a little while, they immediately begin complaining or feel a great sense of dejection (II.11).
Uh, thanks for some convicting truths. I hope your book sells well for many more years.
Copyright (c) 2016 James N. Watkins