Hebrews 4:16 Let us then approach God's throne of grace with confidence, so that we may receive mercy and find grace to help us in our time of need.
 In my life experiences, approaching God with confidence can be really difficult. I mean, He is all knowing. That's kind of intimidating. He knows what I am going to ask already. He knows the answers. He knows how things are going to turn out. He knows what's best. He knows what's better than what I am even asking for sometimes. That can sometimes keep me from actually talking to Him about things. With that mindset, it's easy to be like, "What's the point?"
 The problem with thinking like this is, I forget that He's also good. I forget that He wants to talk to me. He wants me to see what's going on in my heart. He wants me to pick Him for me. He wants me to know His heart. I want to know His heart too, but I can have so many walls up because I feel like I know how things have gone in the past. I know what the Word says. I think I know exactly how He operates. I am so strong and independent and self sufficient. But all of that is worth absolutely nothing if I don't know His heart. 
 Yes, God wants me to serve Him, but He wants closeness. He wants me to approach Him confidently. He wants me to accept His grace. For someone so self sufficient and self punishing when I screw up, accepting His grace and help is hard. I so often go to Him for the answer so I can immediately execute the order like a slave, but He wants my obedience like a daughter. He wants my trust and belief that He does know what's best. He wants me to be comfortable in His embrace and receive His direction as a steering toward safety and wholeness.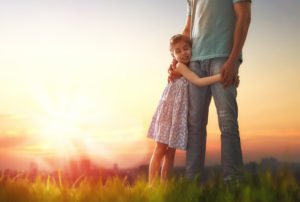 I can't fix me. I can't fix anything or anyone. I can't do enough right to get Him to love me. I can't follow enough instructions to win His approval. I can't be perfect enough to deserve His mercy and His grace. But for some reason, He wants to give them to me. For some reason–that reason being, He is invested in this thing. He has invested His own blood and His own tears in this relationship. He wants to have an equal part. I so easily forget that this relationship we've got going was His idea first, not mine. He has given me His word. I forget it so often because I don't see it tangibly all the time, and I get anxious and blame Him. 
 It's so easy to take credit when things are going right and blame God when things are going wrong. It's so easy to forget and want to give up, when I am overwhelmed and my weak heart is so anxious, that this life was His idea. He picked me, on purpose. He knows who I am and what I am capable of. I'm on His radar when I feel more lost than ever. I am in His sights when I feel like I am just wandering. 
 It's crazy to me that He knows my heart and He still wants me to approach Him so that I can receive the grace He offers. I know the ugliness of my heart and hate it. He for sure sees my ugliness to the core, and He wants to give me forgiveness. How can this be? "How?" is the biggest question that prevents me from accepting what He is offering me. But surrender means I have to stop resisting.
 Surrender is terrifying to me because it involves an understanding that things may very well not play out the way I want them to, and I, more than just about anyone, want things to go my way. Surrender means accepting what He has for me, going where He says, doing what He says, but trusting that He is good and He is faithful. 
 He is a good father. Imagine the best dad you've ever read about or heard about or seen in a movie; He's better than that. Understanding that kind of love that isn't untrustworthy or manipulative or conditional can be super hard for me to wrap my mind around. I tend to perceive love as something that is temporary or a means of getting one's way. But that's not God. He doesn't tell me my opinion or feelings are invalid. He tells me to trust. 
 There are just so many depths to who God is. I am in the midst of a battle of trying to understand and to trust. Trust. Still, He desires that I approach Him, and I have to understand, He's not a tidal wave waiting to crash down on me and take me out. He's not waiting to reprimand me. Yes, He disciplines, but He isn't waiting to punish me. He loves. He loves well. He loves wholly and completely. He loves me enough to redirect me. He loves me enough to let me choose. His love is everything I could ever hope for but sometimes dare not even ask. 
 He is good, and out of that flows His love. His love is intense and fierce; unlike the fake crap the world tries to sell us or what we settle for. He wants us to confidently approach Him, that He may give us all that we need.