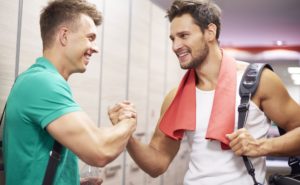 From "Encourage: Inspiration for IPHC Leaders" Published by The International Pentecostal Holiness Church. Click here for full edition.
Today's spiritual leaders must do more than preach to the choir. We must love our communities!
Without any additional details, I asked some men to make a list of five. Two of the guys assumed I wanted a list of five prayer requests. One guessed it was a list of five new trends in today's church. One thought it was five ways to pause and become more aware of God's presence in our busy lives.
One correctly predicted it was five names, but he wrongly assumed that the names were the five leaders who influenced them the most. None of them were correct.
I slowly gave them more details, first saying this list would help them see the way we follow Jesus, how we change the world and a key step to making disciples. These are priorities, I said. Essentials. Fundamentals. But often forgotten.
I finally became more specific and asked, "Can you list five people you communicate with regularly who are not followers of Christ?"
I gave them time. I watched their faces.
Two of the men did not have any friends who were not followers of Christ. One, a bi-vocational pastor, had many friends who were not followers of Christ, but he confessed he spent very little time building deep relationships with them.
Another man admitted he knew several but rarely ate a meal with them, invited them over or communicated with them. All of these men felt the tension. The intriguing dialogue educated us. And it made us sad. We spent time discussing what Jesus would do by reviewing what Jesus did.
Today's spiritual leaders must do more than preach people to Jesus. Those humans—made in God's image, but not knowing the biblical truth—are important. They crave relationships. They want conversations. They long for authentic dialogue that reveals their importance.
This isn't about a new program, a new church trend or a new tagline. This is about Jesus. It's about following Jesus—who was known as "friend of sinners" (see Matt. 11:19). It is about His love for the people in our neighborhood, the people in the grocery store, the people we know, the people God wants us to know.
"What hinders us from developing better relationships with those who do not share our faith? Are we afraid? Are we too busy?"
My small group began pursuing answers to important questions. What hinders us from developing better relationships with those who do not share our faith? Are we afraid? Are we too busy?
Some pastors say it is their job to train their people how to do this work of the ministry, but aren't ministers to lead by example rather than only through sermons? Who have we recently met in our neighborhood? What obstacles keep us from building relationships with five—at least five— people who do not know what we consider the most important truth of life?
Think of what it would do for us if we would get to know those five better. Their fears. Their wounds. Their questions. We might be more understanding of individuals with deep hurts. We could possibly gain a better understanding of why they are reluctant to come to church, how they have been wounded in the church or why they understand very little of church language, sermons and songs.
I recently spoke at medical convention. A lady stood in the back to greet me when a session ended. Her attire indicated she was a person with religious beliefs of another faith. She wanted to talk.
She thanked me for my book, Pause with Jesus. I asked, "How did you get a copy?" She said, "A lady I work with gave me a copy. I am reading every morning and every night. This is helping me learn about your Jesus." Her coworker cared and became a true friend. Her friend built trust before buying her a book.
Many people like this woman are waiting. Not for a book or sermon or cool church trend. They are waiting for a friend.
They might be looking for your story. They might be looking for someone like you to show interest in their story. They might be looking for someone like you or someone like me to help them gain a better understanding about Jesus writing their story. But how? How can we build more relationships with more people in our busy schedules? Here are a few ideas:
Viewrelationshipsasapriority— relationships with those who do not yet know Jesus.
Begintoobservepeopleinyour neighborhood, your school,
your business or your favorite restaurant. Notice them. See them as people made in God's image and loved by Him.
Speaktopeople.Askopen-ended questions and listen for their answers. Talk with a kind tone. Make eye contact. Display Jesus.
Invitethesenewacquaintences over to your house. Eat together. Laugh together. Learn together.
Pray.Prayforyourcity.Prayfor the Lord to send workers into the harvest, and pray that you will be one of them.
Tellyourstory.Sharehowyou found truth, grace and forgiveness. Share how you met Jesus.
Welcometheirstorieswiththe love of Jesus.
I recently spent time with a dear friend. He has been a faithful pastor in the same congregation for over twenty years. I was speaking in his town, so we went to lunch.
At the restaurant everyone knew him. They spoke to him not in a churchy language but honest, transparent conversations. They asked him questions. He listened well. He loved them.
These people could see Jesus through a true pastor loving his community. Even though they had not yet received salvation, they saw a living witness of Christ.
My pastor friend could count the people regularly attending on a Sunday morning as the number of people he pastors. But he pastors more. Many more: The workers at the daycare which meets during the week in his church facility, the people in his town who call him when they're in need, the teachers at the nearby school, and the neighbors next door.
What about you? Do men and women at your favorite restaurant know God's love through your willingness to be their true friends? Who do you know well that does not yet know Jesus? If Jesus loves them as much as we claim He does, shouldn't we?